Painted from life, plein air style at the Mission San Juan Capistrano. Later at the home studio I added only essential refinements. Below are images of the painting on location:
When I was picking a place to paint, the noise level from workers setting up an event was pretty high, this was not what I expected on a leisurely Saturday at the Mission. It was hard to shut out the chatter from workers. I will put headphones in next time as I love to paint here on Saturdays it seems.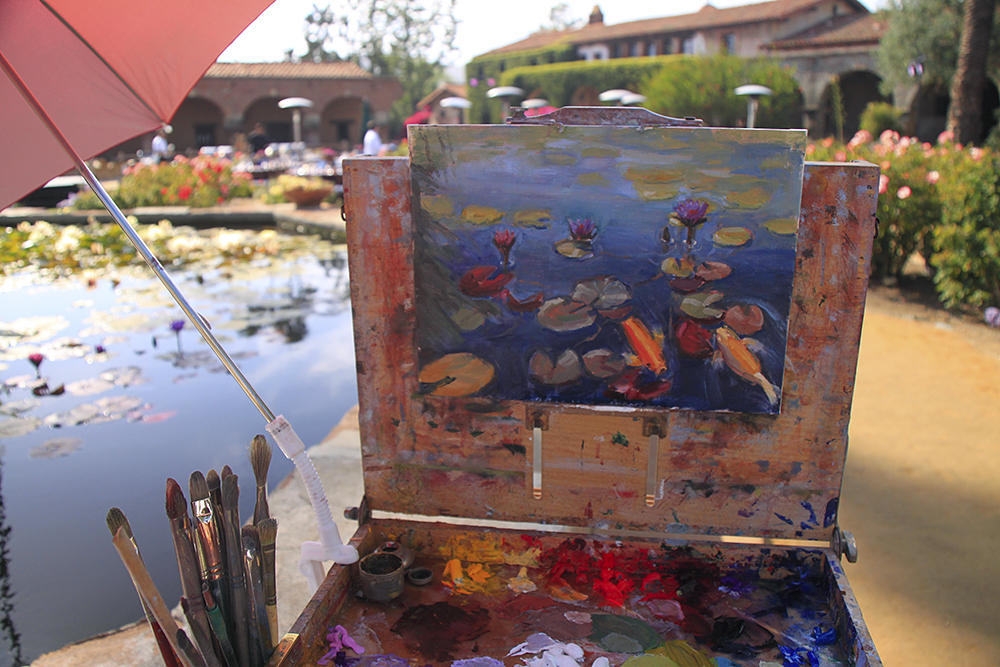 There are two fountain ponds at the Mission San Juan Capistrano. I really like the larger one in the center of the mission. I circled around it twice before this arrangement pulled me in. It was high key in color chroma. I was drawn to those violet and red-violet tropical waterlilies. The Koi swim around in circles all day, when I saw one that fit into the composition, I grabbed my brush, loaded it with some Gamblin Transparent Orange and placed the left Koi into the painting. Then a yellow one swam by and I quickly grabbed some of that orange mixed with Naples Yellow and dashed him in. When I took the painting home I worked on it ever so carefully to not destroy the spontaneous strokes, only add to the overall beauty of the prime subject matter near the focal area. Ripples were added from photo references and I submerged the Koi a little by adding more highlighted water around them. I love how this turned out with some unfinished spots, showing the thin undercoat of burnt orange.
Comes framed at the price listed on my website page.