A couple dozen of artists showed up yesterday morning at the Montage Resort to have a paint-out. I picked this spot for the clarity and colors of the shoreline seawater along with the brilliant warm colors on the bluff. There is so much happening in this location for an artist that one has to squint to see what truly pops out as a high contrasting focal point. The fast approaching tide chose it for me when it rushed ashore towards the sunny orange cliff. A long cascading group of shrubs grew downs towards the sea at that point. I can thank Nature every time for showing me where to put my focal point. Vivid magenta bougainvillea dotted the bluff for more high contrast in this area. So, I set up my composition to portray this scene based around these natural elements. I added more magenta flowers in the end to accent that bluff with a little more color for the painting`s sake.
I`m so attached to the sea, I become emotional when I see the varying colors in the water along with the white water do it`s dance on the shore. This rushing tide was fingering it`s way so rapidly and with great force, it hit the base and would crawl up even. I have been experiencing this offset tide lately, in fact this whole summer as I spent many days on the beaches of southern California. They say it is due to the hurricanes that were offshore on the coast of Mexico. My husband says it is Global Warming. That`s alarming. All I know is that when I was painting on the shore this summer, I have been nearly wiped out by them several times. My art equipment is getting rusty now from that salt water. I`ve been knocked down hard just taking beach walks in the shallow water when a sneaker wave rushes ashore. Today I was glad I was high up on the bluff. But it has been a fun, fun summer anyway.
Here is an image of the painting after two hours on location: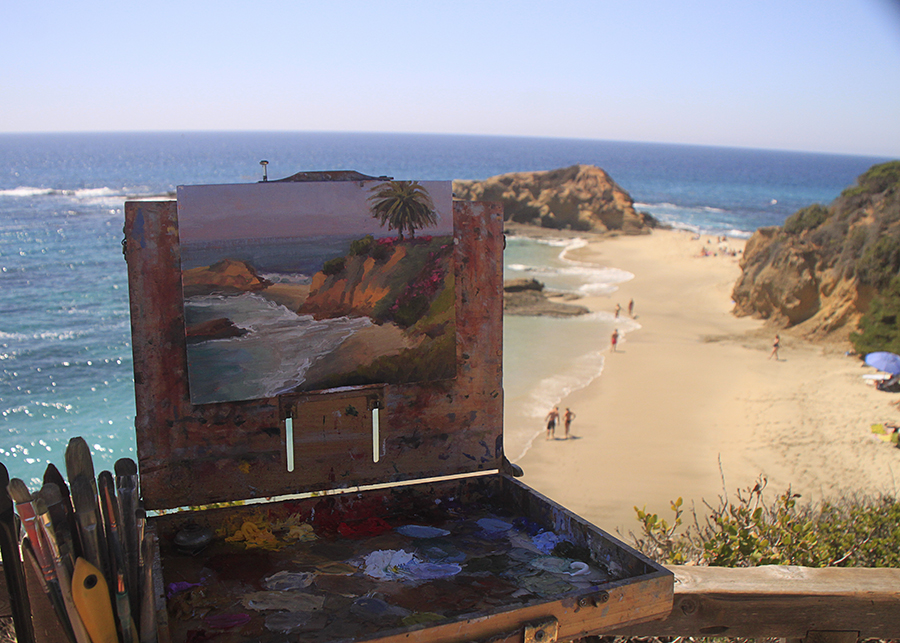 Here is one of those tidal rushes I`m talking about. Beach people were squealing as the cool water got to them, I did that too this summer!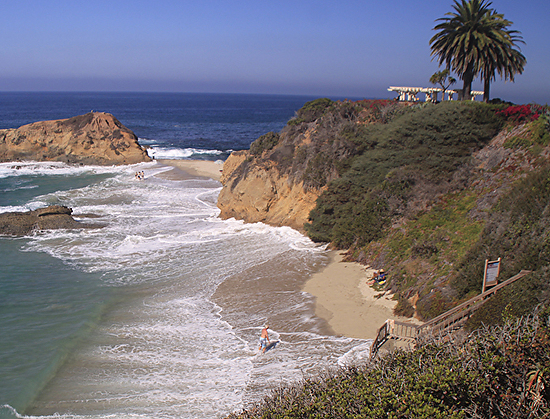 My artist friends with SOCALPAPA (Southern California Plein Air Painter's Association) had a quick draw which meant we had two hours to paint a scene plein air style. It is very stressful to an artist to cover the canvas, refine and complete a work of art in that short time. I felt like I was a race horse coming in last. Although I did the deed in time, I felt later that I needed to refine it and adjust the painting into something more. Certain areas needed to be brought out more and some needed softening while others needed to be more atmospheric and cooled. Many edges had not been met and there were large empty areas. So, I took it into my art studio at home later that night and worked on it a few more hours. The most important thought running through my head the whole time was not to overwrite the underpainting completely. Only address the areas that I could see were too crude. I worked the whole time while making interval glances at the reversed painting in a tall mirror behind me. It helps me to view the piece that way immensely. Anything that is 'off ' will pop out. After awhile I usually get a feeling and hear a voice that says it is done, there`s no more adjusting to do without overworking it. It`s important to listen to what is going on in your head. I can hear it`s done, it`s done several times before I actually put down the brushes. I`m working on that with each painting, knowing when to quit. I get better and better all the time. The key point is to keep that capture of feeling I had when I was there painting the glorious scenery. A second and I think even more important key point is to abstract the scenery into a work of art, not paint the scene like it is before you, use the elements of art to recreate it. I believe I did in this one.
The price is with a frame. CA sales tax for California residents is 8%.
Comment on or Share this Article →
---
---
---
---
---
---
---
---
---
---