---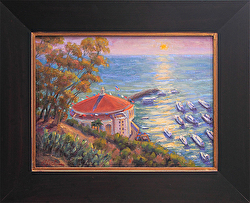 This was begun in late August on location above Avalon Harbor on a morning during the heavy swells caused by a hurricane off the coast of Mexico. While I staying there for a few days, I hauled my art gear up a steep road to capture this scene of the Casino near the helicopter pad. I painted in the scene and took it home, then added more studio work to it recently to bring it more to my liking. Here is an image of the day I painted it on August 27. You can`t see the swells in this image, the tide had settled late in the morning but would pick up again later. Hurricane Marie which was a category 5 pushed the ocean northwest in heavy swells. It was a bit scary to see the waves roll in that morning and hit the town of Avalon. But it was not bad and everyone lived through it. The boats were tossed around moderately throughout Tuesday evening and into Wednesday evening. My ferry boat had been cancelled but then later in the afternoon they recanted and I went home to the mainland. I am greatly fond of Avalon now and hope to go back soon to paint.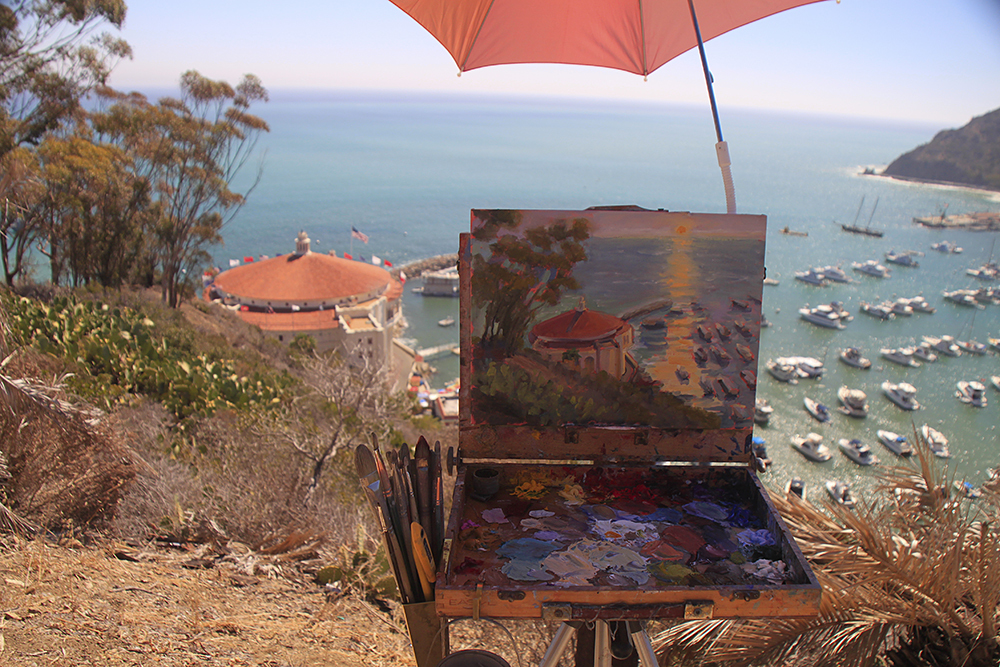 Even though I blocked this in very well, when I kept looking at it in my studio over the past month, I wanted to refine this into a more high quality piece. The images I took did not help very much as the sunlight was blinding everything out. Not one image had that first of the morning sunrise I remember. So, guess what? I had to go on a lot of memory and experience. That turned out to be enjoyable and I created from my emotional impact and color recall of that day. I also wrote notes down in my sketchbook of my first impression of this scene. Those words helped me recall the veil of light that was cast over the horizon and everything else. So, I combined several things to produce this art. I wanted to make you feel the boats toss as the swells rolled in, I wanted to make you feel the warmth of the sun and the brilliance it cast across the harbor waters. I also admired the way the big Casino is tucked into the cove under the high bluff with tall, glowing eucalyptus trees growing wild on the edge. I could not leave out the prickly pear cactus that grows wild on this island too. I liked how the color harmony worked out too. This is a colorful piece with lots of thick gestural paint over thin paint. Painted right like the old masters say, fat over lean. You will admire this forever, I put so much into it.
Below is another image of how the early morning tides were crashing up against the boardwalk in Avalon. It was pretty exhilarating to watch.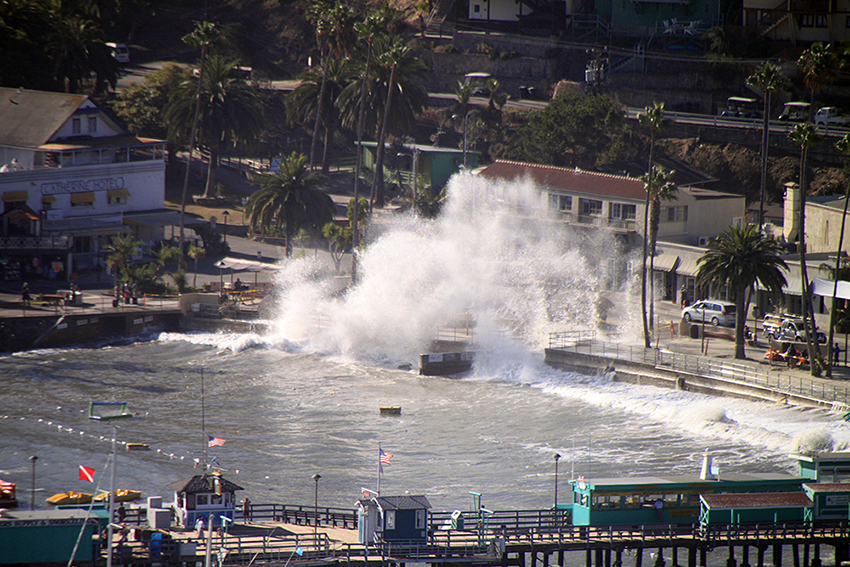 Comment on or Share this Article →
---
---
---
---
---
---
---
---
---