I painted this on location in Avalon Harbor on Catalina Island, Tuesday August 26. I arrived the day before to do an art show, got up early the next morning and found this scene to be especially nice. It had a mixture of cool shade colors with the early warm sun accents of light on the casino building`s edges. The bows of the boats sparkled in the morning sun. Reflections of the sun-kissed casino columns danced on the harbor water which was waving up and down. I felt I was in a dream. There was a heavy ocean swell due to a hurricane down in Mexico, it wasn`t bad yet on this morning. Except for a sneaker wave that would splash against the rocks around the harbor. They were due to become worse later, so I knew I had time to paint and enjoy the clear, sunny weather. Funny thing is the swell was acting up but the sky stayed blue due to the hurricane turning a hard left towards Hawaii. So we never saw clouds from it.
I almost always begin my oil paintings with this burnt orange blend over my bare linen panel and wipe it to a dry patina before painting in color. That way, if there are unfinished edges, which in plein air painting, it is a given, this warm color will show likes sparks of light instead of bare white. I lightly sketch in my composition with the same burnt orange color that I make from Alizaron Crimson, Cadmium Yellow and a touch of Chromatic Black, sometimes a dab of Ultramarine Blue. Since the light is changing rapidly, I do not waste much time on the sketch, it is only to position my major shapes upon the panel with minimum detail. I make an indication of where I want my focal point to be, in this case the rear/stern of the smaller boat and the bow tip of the larger boat. The water bouncing through the space between the larger and the smaller boat has an interesting mix of color abstractions in various shapes and values. That area is also off-center in the right-lower thirds. I`m too busy to measure for the Golden Mean, I just divide my panel up into thirds and then mentally note that there are 9 equal squares within the thirds. You can see the dot shaped markers I place in each third on the edges of the panel. I then wipe some off especially near the sky later, otherwise if it dries it can show through my light blue sky. I move so fast painting that sometimes my third markers stay and can be seen in the final painting. A secondary focal point is the upper balcony of the casino with the colorful flags. One area lead into the other quite nicely by alignment.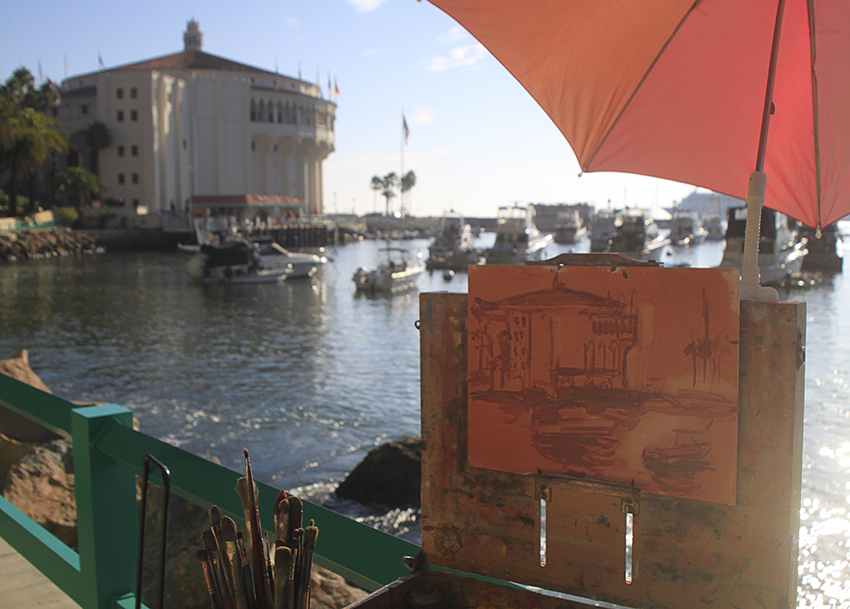 Next is the blocked in painting, I filled my panel with the major shapes in a poster-like layout. I was not being picky about meeting edges, just very picky about values and color, geometric shapes and atmospheric perspective.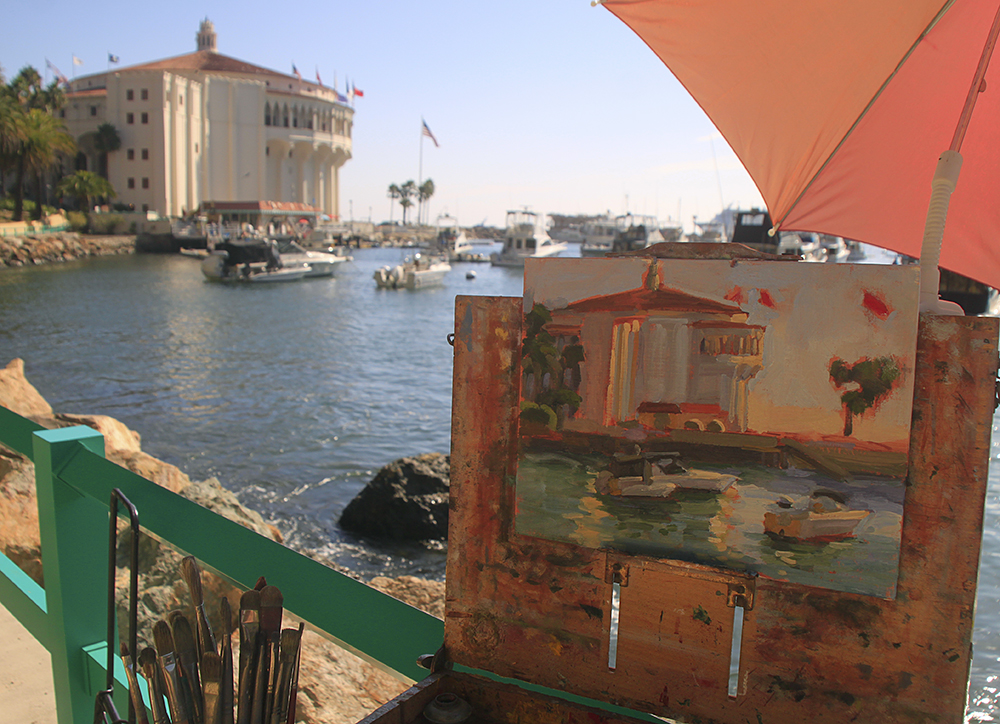 In a couple of hours I had added and adjusted major areas into more of an interwoven piece. I was just about done, but I had to leave. I was part of the Summer Art Series, Shops at the Atwater put on by LPAPA and the Catalina Island Company. I was supposed to be demonstrating that morning. I chose to finish this piece in the lobby of the Shops at the Atwater later. A man wanted to buy it right there, I told him I think it needed refining, so I gave him my card. Another man sent his wife to see what I was doing from a boat in the harbor. He was going to buy it if it was his boat! It wasn`t, but I took pictures of his boat after that.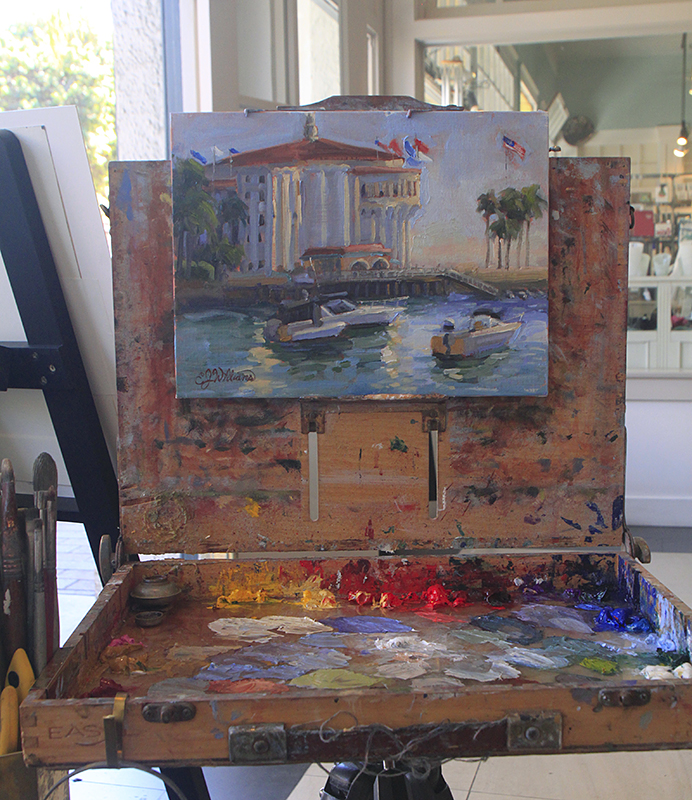 Here it is completed in the nice lobby entrance to the Atwater Shops. The indoor light makes this appear more washed out, but I worked on it for an hour maybe to tie up very disconnected edges and leave other edges alone. I also added trims on the building and boats, flag poles and dashes of color in strategic spots. I did not overwork anything, to keep it fresh looking with the initial shapes brushed in still being intact and not brushed over again. Done!