I painted this plein air piece onsite at Salt Creek Beach in Orange County, California. It`s right down the hill from me. I went there on the eve of the 4th of July. I go there often. We have been having great summer weather lately except for the marine layer that sometimes wipes out the sunset. Fortunately on this day the fog kept back until right at sunset so I was able to paint a vivid orange sun as it truly looked. Towards sunset, the lifeguard stand closes up and stands in dark shadow against the high color skyline. Nearby cattails are also in cool shadow with the tips towards the sun glowing in light. People are lined up out on the shoreline for the day until the sun sets. The sand turns from golden colors to cool mauves,neutrals and violets. Monarch Beach peninsula is a distant bluff in gray. The sea was calm this day without big waves. I was holding back on painting my sky until the last 15-10 minutes to wait and see what glorious colors would appear. It is like magical color bursts almost every time. Then I began feverishly mixing batches of a crimson, blue-violet and gray to build the marine layer puffy clouds with the halo of cream and buttery light hitting the tops. Then I stroke in the orange and yellow orange as the horizon becomes a blaze of warmth. Colors change so rapidly at sunset, I lay it down and leave it pretty much alone to capture a moment. I add final tints of colors to give it some highlights but not overdo it as the colors at sunset are actual down in the scale of values.
Here is the spot I picked to set up and I brought my Chihuahua, Dolce to keep me company. She takes her nap in the Radio Flyer wagon while I paint. I feed her some white chicken breast first and some water so she`s comfortable enough to sleep. She also gets a little walk first to chase lizards and tire herself out.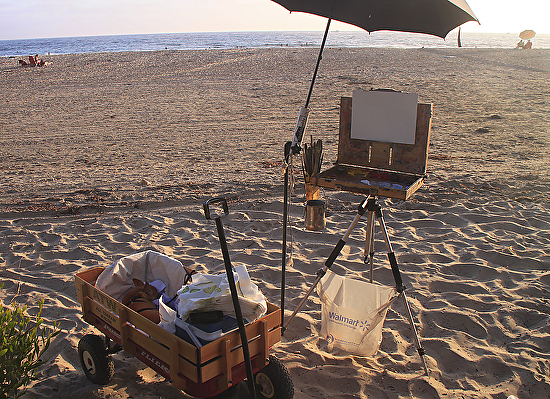 Dolce loves to be with me anywhere. I love the beach and so does she.
Dolce, my Chihuahua napping, I keep her tied just in case she sees another dog, she loves to run after them!
After the sunset, it tends to get dark quickly and people leave. I usually run into the ocean to cool my feet off after standing and painting. It`s always a good day spent when I paint until the sun goes down. I`m so happy when the day is done and another sweet painting is created. I went back the next day on the 4th and began yet another painting of beach goers and the lifeguard stand.