In the spring, the California hills are dotted with the yellow mustard among other wildflowers and the trees are bursting with green leaves. The Coastal Live Oak holds it`s leaves all year long though. I was walking up the trail into Bommer Canyon, an Irvine open space wilderness, part of the Orange County Parks system recently. I`ve been going there for a decade now to paint. I painted this tree before, but it was years ago. On this day I noticed it was a set of 2 trunks, not one. They seemed intertwined with each other, hence the title "Twin Oaks". The field was a golden orange-yellow from a combination of mustard and wild wheat. The canyon slope beyond was a blue-green with violet highlights. The oak trees just shined on that high color slope while a very bright Sycamore reached towards the trunks. Another sycamore on the right was more bloomed and not so green, it had a huge mistletoe cluster hanging from it`s branches. The scene cried out to be painted, so I set up my easel in a hurry. I only have until 1:45pm to paint in this wilderness, the hours are from 8-2pm and I always arrive late and leave at the last minute. The park volunteers know me well! I do not just arrive in the parking lot and walk a short distance, oh no, I have to haul my radio flyer wagon way up the trail to find the best bucolic scene. It`s a good work-out to keep me strong too. I sketch a pencil drawing in my sketchbook immediately and make notes of what is capturing my eyes and emotions. I will add an image of that later. The rough sketch on the panel is done in diluted oil colors. I make a mixture of Alizaron Crimson, Cadmium Yellow Medium and a spot of blue or Chromatic Black to make a red-brown. I coat the whole panel with it and wipe off all excess with a paper towel. Then I take a small Size 2 beat up old brush and divide the canvas into thirds. Right away I make dots where the subject matter is to be placed. I`m working very fast at this point, no time is to be wasted when you are under the gun, time does not wait. Once I get down a favorable composition and know where I positioned my focal point, I go right into painting the dark colors. In this case it was the double tree trunks and branches. They were right in the left third side of the painting. I really liked the open circle composition of this scene where the two Sycamores are like curtains opening up to the beautiful oaks on the slope in the distance.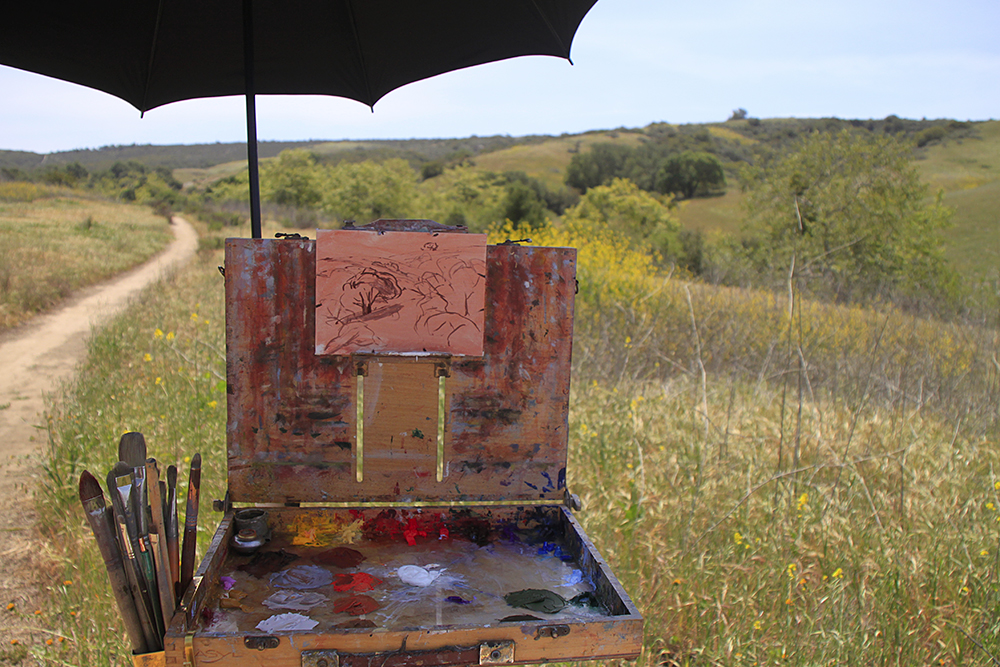 By the time I dived into painting to when I had to leave, I think 45 minutes had passed. Surely not enough time to refine the blocked in painting. But I was pretty exhilarated in capturing a moment in spring in these hills. Summer comes too fast, the heat dries up the flowers in mid-May. So, I knew I had to finish this up at the home studio using my images I took, along with my fresh memory of it all. I packed up my gear and ran the wagon down the trail with dust flying behind me. Some added notes about how I painted it so fast, I usually start mixing oil colors on my palette that generally match the darkest green I see for the oak tree, in this case it was a blue-green in a dark value. But I saw red in it too, I first laid in a wash of Alizaron Crimson mixed with Chromatic Black. That was the blocking in of the shadow area. Everything you see in nature is not just one flat color, it is multidimensional. Colors gradate to other colors and values, there are transitions from one subject matter to the next. Angles of light and atmospheric color changes must be observed or the painting does not take you into it`s space. I know the first colors and values I chose must then be related to the whole rest of the painting process. After years of practicing this process of building up a picture, one gets very fast at it. I do proceed from dark to light, warm to cool in my choices of mixing colors, then adding in some higher notes of color to give that extra zing in the end.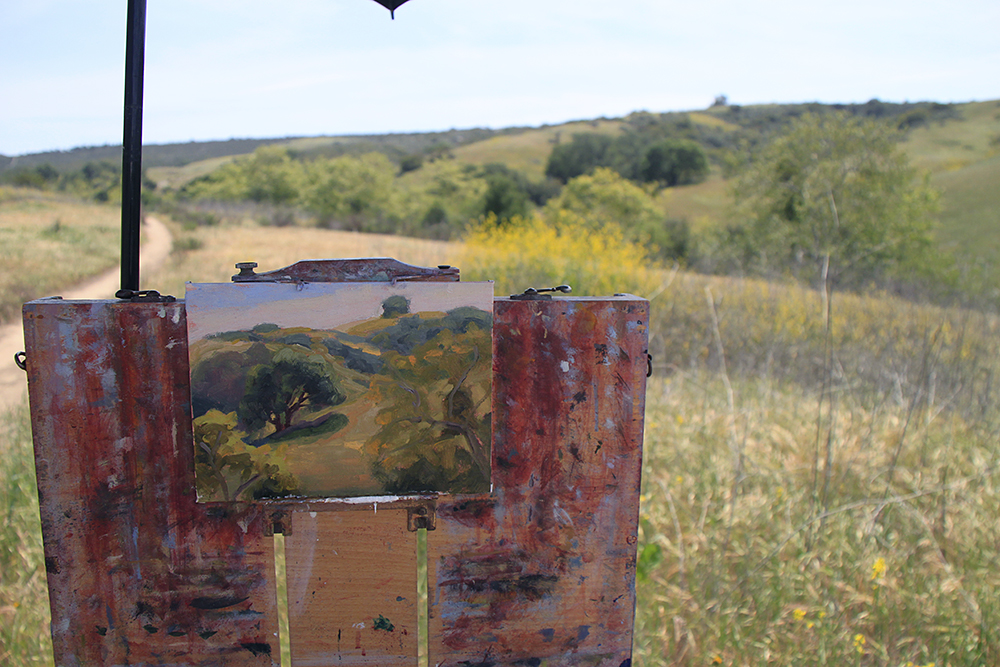 Here`s the whole scene with my wagon and plein air painting right before I left.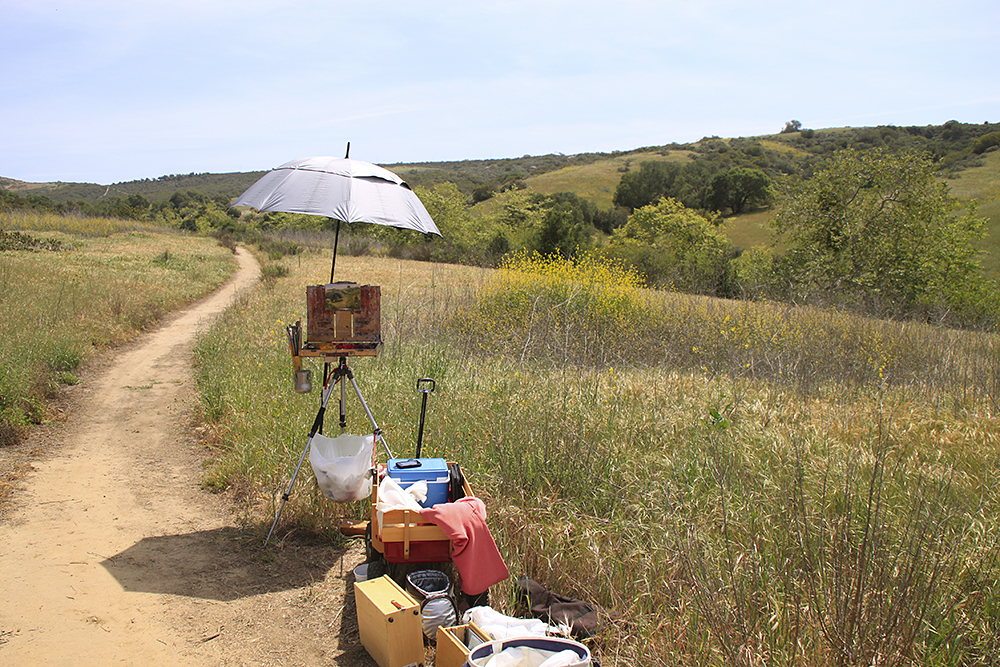 The swallows were flying overhead, I heard their musical chirping the whole while. It was very peaceful there, except for the strange flies that always seem to come out in spring, they buzz your face the whole time. Below is an image of the trail as I was coming up and Irvine home are in the far distance.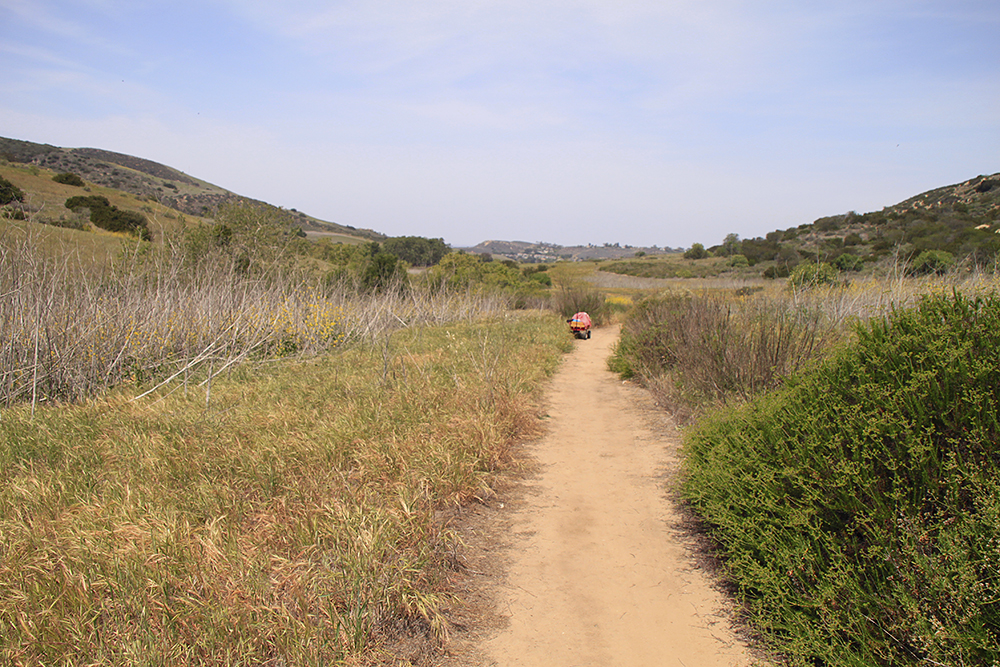 After taking it to my studio, here is the refinement I applied to the piece. I need to paint more oaks, they are addicting to me.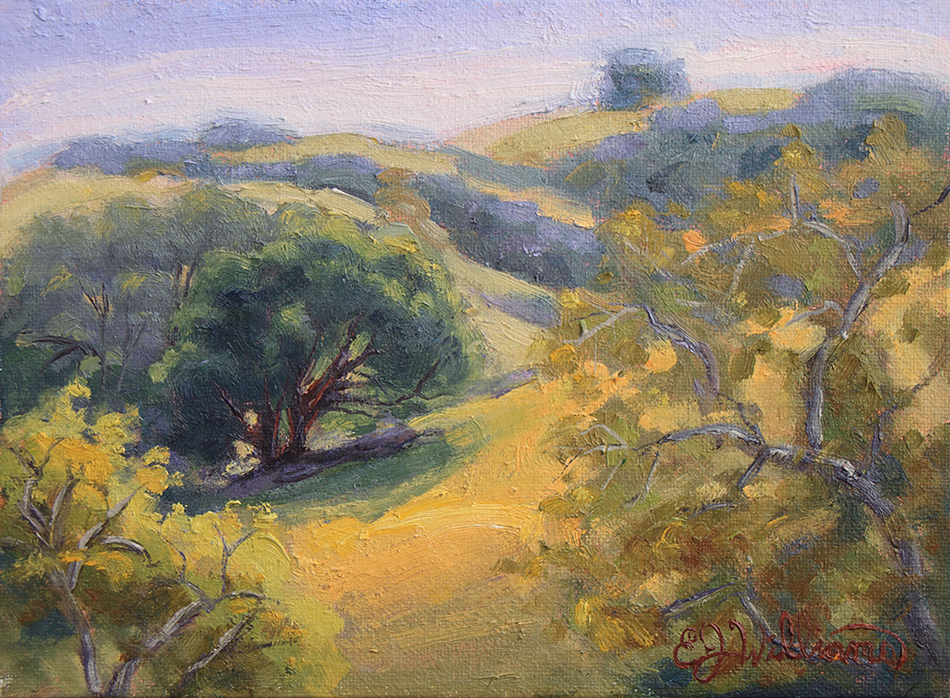 This will come without a frame for the price listed. If you want a plein air frame, I can supply a good quality one from King of Frames for $40 additional.