I painted this on location at Crystal Cove Cottages and Beach yesterday, September 27th. I stayed overnight in one of the lodge cottages just above on the bluff. The next morning after check-out, I draggd my art wagon down the hill and set up my official plein air art camp or production set-up. It feels like I get the whole package when I stay the night before and move onto the next day to paint this historical place.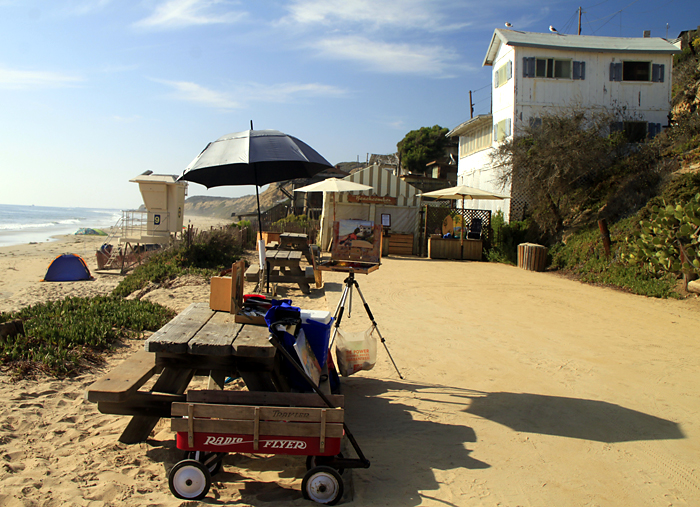 My set-up on location. That picnic bench called me today in front of Cottage 12, the tall whitewashed one.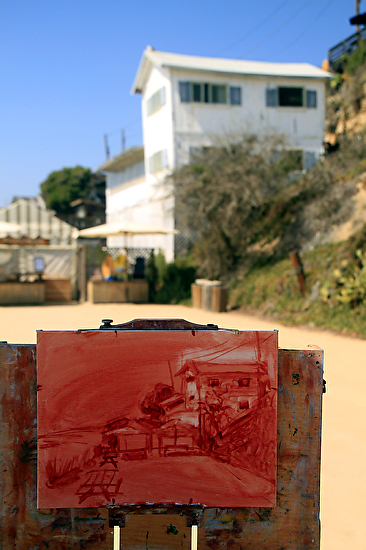 After I draw in with a red-orange oil wash, I am ready to paint. You many notice I wiped out areas in the wash with a towel, that is to show my highlighted areas or point of interest. I also will wipe out a whole drawing if I do not have the composition positioned enough to please my eye and for the painting`s sake. Although I want to paint in the whole panorama, I can only take a portion of the scenery for this size canvas. Besides I wanted to make this one about the cottage on the right and the gnarly half dead tree in front of it.
Here is a picture when I was almost done blocking in the masses and values, trying to stay away from details yet. That is the hardest part, holding back while I build the composition, I have to think from large to small, the painting on the whole first, details later.
I had not blocked in that smaller Beachcomber tent yet, I was deciding what to do to make it subdued and not to compete with the white cottage. I took a ladiesroom break and came back to address it. Sometimes a break is all it takes to get a lightbulb pop up in my head. So, I mixed up some neutral taupes and blonds to lay it in as a subordinate accessory shape without high contrasting stripes. For the windows of the Beachcomber Express, (that is what it is called) I made them a medium blue-gray to make it look like a screened window and add unity to the whole painting. Being this palette was a earthy looking one with lots of blue in the sky and shutters, shadows, etc...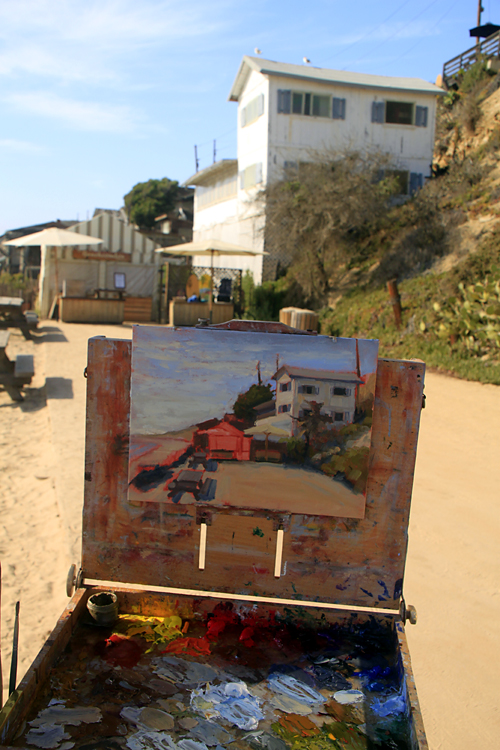 So, here I think I am just about done and I want this piece to sing a little more and be done on location. With my hectic lifestyle ayway, I do not find time to do more studio work on a plein air piece if it is not done on location.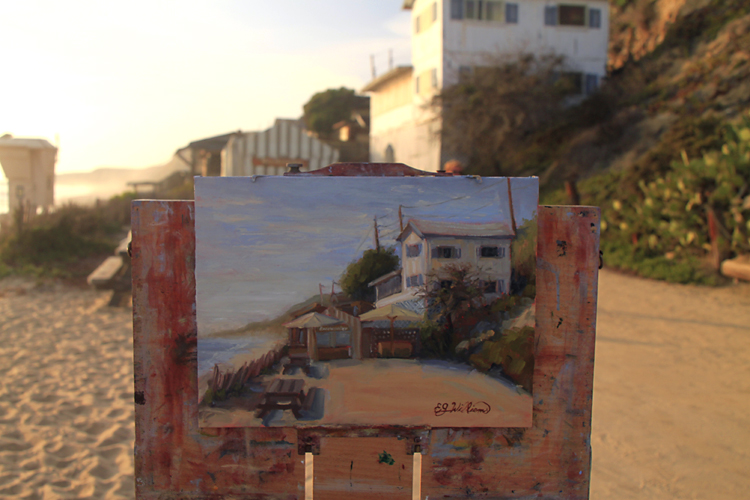 I signed it, I placed the Beachcomber name on the plack of the tent, amazingly the teeny tiny letters were readable. I used a balancing stick to steady my hand. But still the brush was loaded with more paint that would surely add blobs, so I thinned it out with a little gamsol, that did the trick. There just was something more I needed, then I remembered a painting I just saw the other day at the Laguna Art Museum of the Clarence Hinkle exhibition. Do go see that exhibition, it is marvelous! It must`ve greatly rubbed off on me as I used a neutral palette like Clarence did in his early Laguna seascapes. But in one painting he added a dash of red in one spot, on a chimney near his focal point. So, I took a little dab of red and stroked the tree trunk with it and threw dots of that red into the ground cover. It gave the area and the whole painting a little vibration, being red on it`s compliment green. I was not done still, I looked at the late afternoon light shining through the fence and added some dashes of a toned down white which added a whole new feeling to that backdrop below the umbrella next to the cottage. Finally I added some pure cadmium light red (which looks orange to me) in the ice plants on the right of the sandy driveway.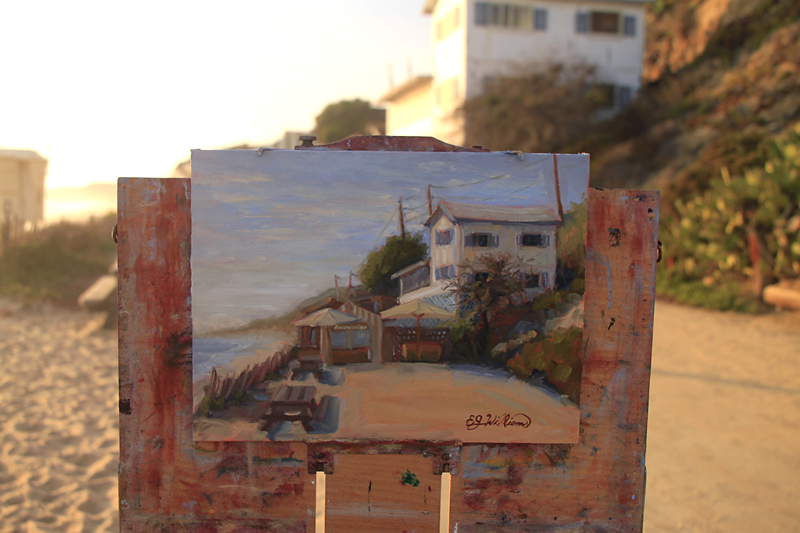 Final little adjusments were made here and there in the sky and telephone lines and I was ready to walk away, not afraid it wasn`t done anymore The painting said, STOP! I smiled, and sat down to eat my sandwich while watching the rest of the afternoon sun slowly sink into the horizon.
Here is a larger view of the piece: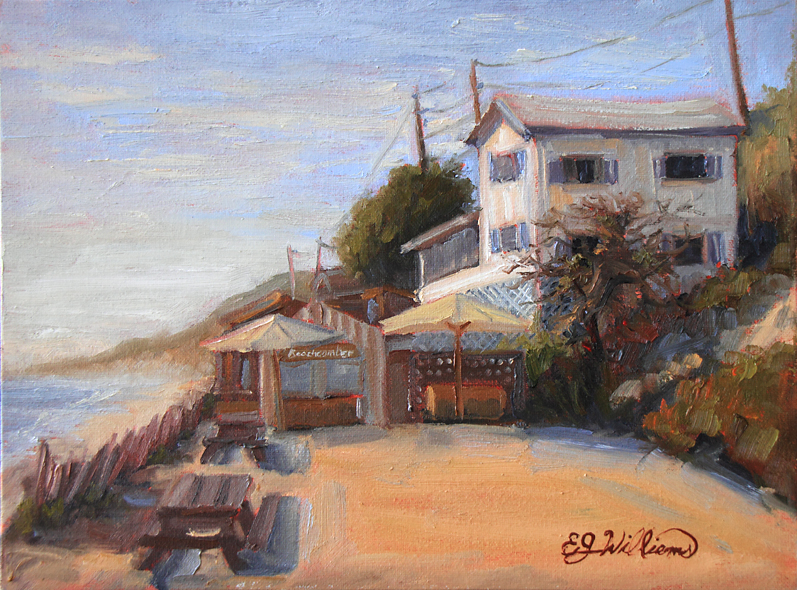 Life as an artist can be good at times like this, it was a fine day! I do work hard, it is not all so easy as it looks. I pack all my art supplies and lug them to my locations, often suffering for it later as I have arthritis. I stand up for hours on end, I do not take a food break sometimes for 4 hours or more, I slave away at a painting with all I have in my being. Years of study, trial and error and struggle goes into a painting. Many paintings are thrown away or destroyed in the early years. For this painting, it is not just 4-5 hours, it is all those other times when I spent countless hours striving to learn and practice what I absorbed from college, books and museums. All those parts form a unique wholeness in each artist. I am very content for all that journey now!