Painted during a gale warning at Crystal Cove Beach. A tall ship passed by during my painting the scene, it was rocking in the strong waves. I carefully dashed in the colors of the sail and the hull, it was part of the experience of this special morning. The large waves were coming in sets of three, it was quite wild. I thoroughly enjoyed painting this during all that intense weather. Luckily it wasn`t raining, just blowing strong gusts of wind the whole time. I was attracted to the water rushing in through the rocks which were positioned like an open avenue to the sea. The 7-10 foot waves beyond were churning a light gold green color as they crashed over. White water was splashing everywhere. These waves were not neat and clean, but powerful and daunting, that excited and scared me. So, I stood a good distance back from any surging waters. After I began painting, a lone seagull rested on the closest rock and stayed awhile as if to tell me I had to include him. I obliged. Here is an image of the scene I painted in. The weather was clearing up a little since I began it early in the morning. I also uploaded some video of me painting it in the beginning only, it is on YouTube.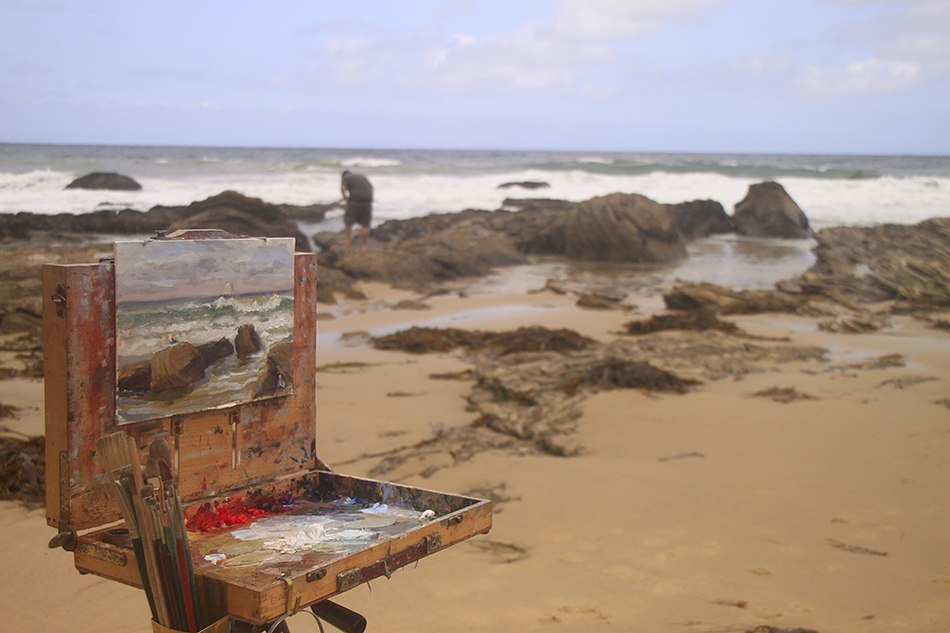 I took it home and refined it a little in the studio. Not too much though, I didn`t want to ruin the purity of the original brush strokes and essence I captured on location. That is a delicate dance to not overwork a painting. Sometimes I have to walk a tightrope and hope I don`t fall. I think I made it across with this. When I look at it, I feel like I am there and the whole experience feels and shows clearly in the painting. Next time there`s a storm, you might find me down at the sea painting.
Price does not include a frame.