Painted by my waterlily and Koi pond yesterday in bright sunlight. This large pink to magenta waterlily bloomed the day before and I knew I had only one more day to paint it. They last only a few days before they wilt and retract back into the pond.
Here`s a crop of the painting: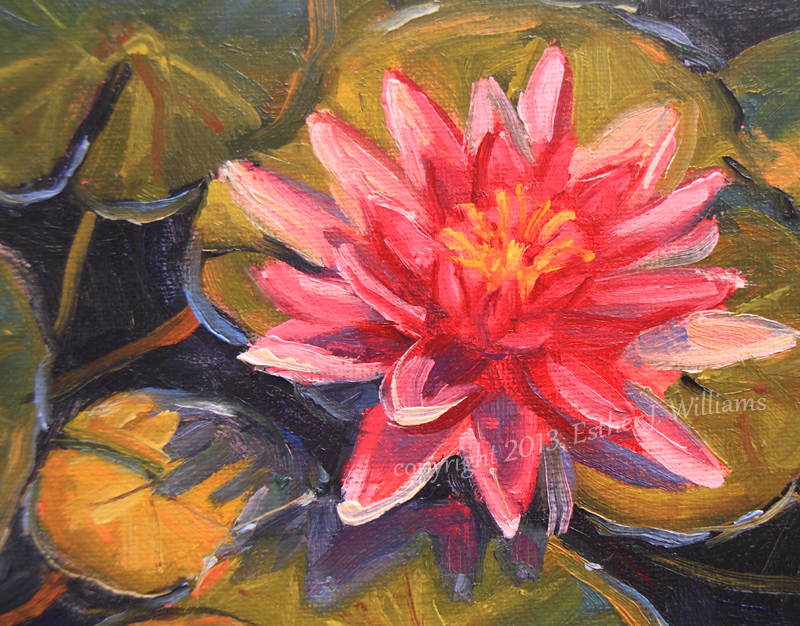 A pond can provide the greatest therapy for ones nervous system and general spirits. I have always gravitated towards them. When I was a young girl living out in the country in Napa, California, we had a large pond out back. It was full of catfish and bullfrogs. My brothers and sisters would swim in it all summer. Many memories linger of that pond in my mind. As I got older I learned of Monet`s pond as I grew to admire his art immensely. Just seeing photos of him sitting on the bench by his pond and viewing his masterpieces of the waterlilies gave me the idea. I soon turned a large fountain at one of our homes into a waterlily & koi pond. I loved sitting on the edge of the fountain which was 6 feet wide and watch the fish swim around. When my waterlilies opened I was in heaven. Now I have a small pond in the backyard of my latest home. It has provided me with countless hours of peace and quiet and the vast amount of colors from the Koi and waterlilies. It is a meager pond, but such a large influence on my life.
I have painted the waterlilies for years now and it seems each time I do, they turn out differently. Better each time. My process of painting changes as I try out new techniques, theories and observations of light. In this painting I focused on color blocking to give a strong sense of design, shape and color values. Painting live on location or plein air sometimes works best with small canvases. The light changes so quickly that it`s better to cover a smaller space than a larger canvas. I am getting attached to chasing the light and creating a sense of frozen time. In the morning on my pond there are great dappled shadows cast by a large tree hanging over the pond. The sun filters through and creates shade areas and sparkling spotlights of sun on the waterlily flower and pads. A shadow is cast by a waterlily on either the dark pond water or the pads. I quickly draw a sketch in washed down oils chosing whatever color I feel like. I chose a Quinacridone Rose for my sketching color and also for my main color of the waterlily flower. Only I would change the values, plus coolness and warmth of it with other oil colors later.
My first desire in any painting of plein air or studio paintings is to compose and build a design based around the shadow values. Below you will see how I blocked them in. I squint at my scenery or subject to get these darker values. Everything else in the painting evolves from this pattern or design. I am not painting the thing, I am painting values of color and how they build form. I build up from dark to light gradually, always observing how the next color note I add is in relation to the former. There`s alway a balance to be checked and counter checked with the whole of the painting in mind. I decide early on where my center of interest is and guide the viewer to it delicately. Sometimes there are several points of interest as in this case, so I use linear strokes in the end to direct the eye throughout the painting.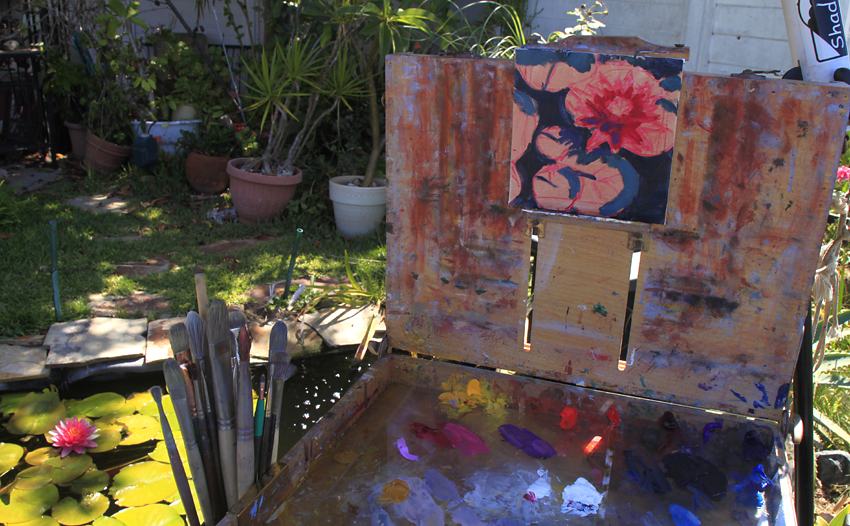 Since I kept seeing the sunlight form a spotlight on this one small brightly colored lilypad, I chose to add a high chroma color note of a yellow-green mixture on that pad to draw the eye there. It is only a color note that would be toyed with later by adding similar color notes to gradate it, not in your face too garish. A great book to read about making color notes is "Hawthorne on Painting" by Mrs. Charles Hawthorne. Dover Publications. I buy mine here at Amazon.com I`ve given this book away it is so good. I just bought one for $6.80 shipped.
Understanding plane relationships through building color in differing values is vital to creating representational, impressionistic art.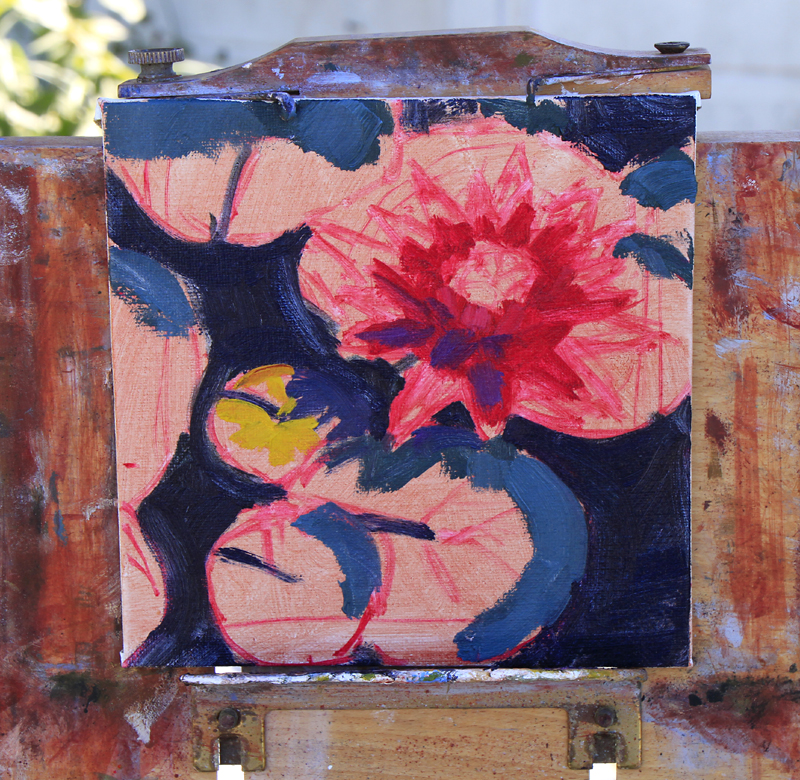 I can`t begin to explain every little thought that went through my head after the blocking in above. My mind goes into a zone and the next thing I know is that I am done. But I am trying to journal at night to put down my creative process. Somethings that I remember at the end of each day and sometimes I write page after page. For this painting I wrote it seemed to paint itself after I color blocked it in and painted the design, not the thing itself. I refined it in the last few minutes after the light had changed right there on the easel. I added embellishments of linear strokes, lines and accents. This is not my first waterlily, nor will it be my last. The next one will be perceived totally diferent by me and the artwork will reflect that. I so enjoy different interpretations, my next one might be very ethereal, soft edges and mysterious.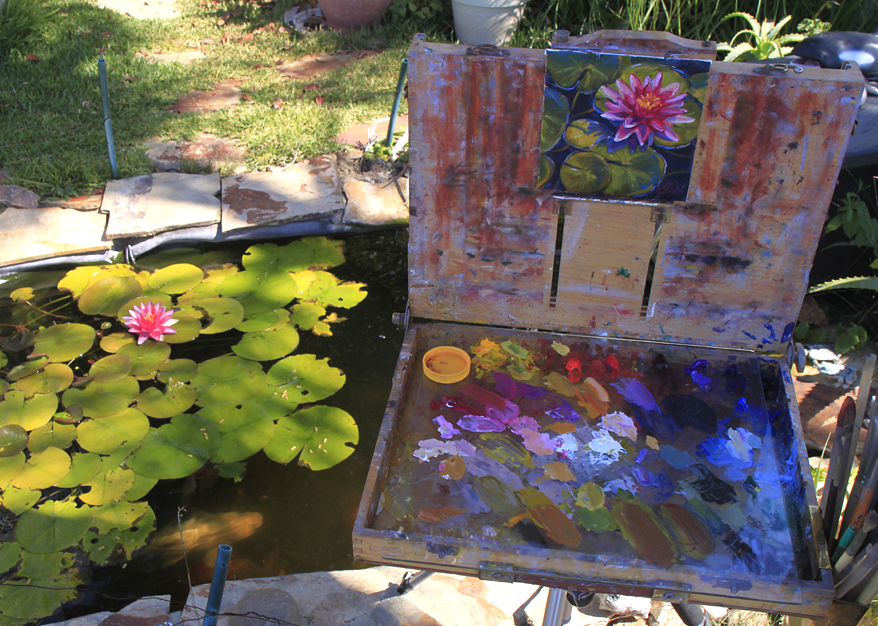 You can see one of my Koi swimming by in the above image also.
Below is the painting as it was finished on the easel.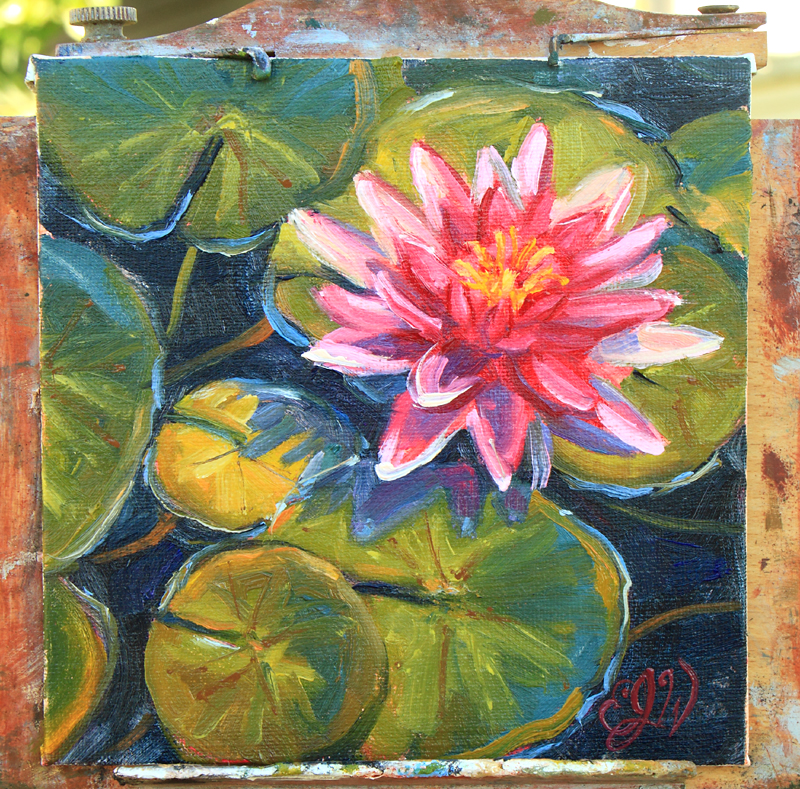 This 6x6 inch square painting comes without a frame. I recommend inserting it into a floater style where the painting gets full exposure. I order mine from www.kingofframe.com A float mount frame starts at $40 for this size. Excellent quality. For anyone considering purchasing this original oil painting, I am including shipping. Please wait a week for it to be shipped as it is fresh off the easel.
Thank-you!