Painted 100% on location at Bishop Creek Park in the Eastern Sierras on a warm July morning. I am adding a few more images below of the steps of the painting. Here is the painting when I completed it on location: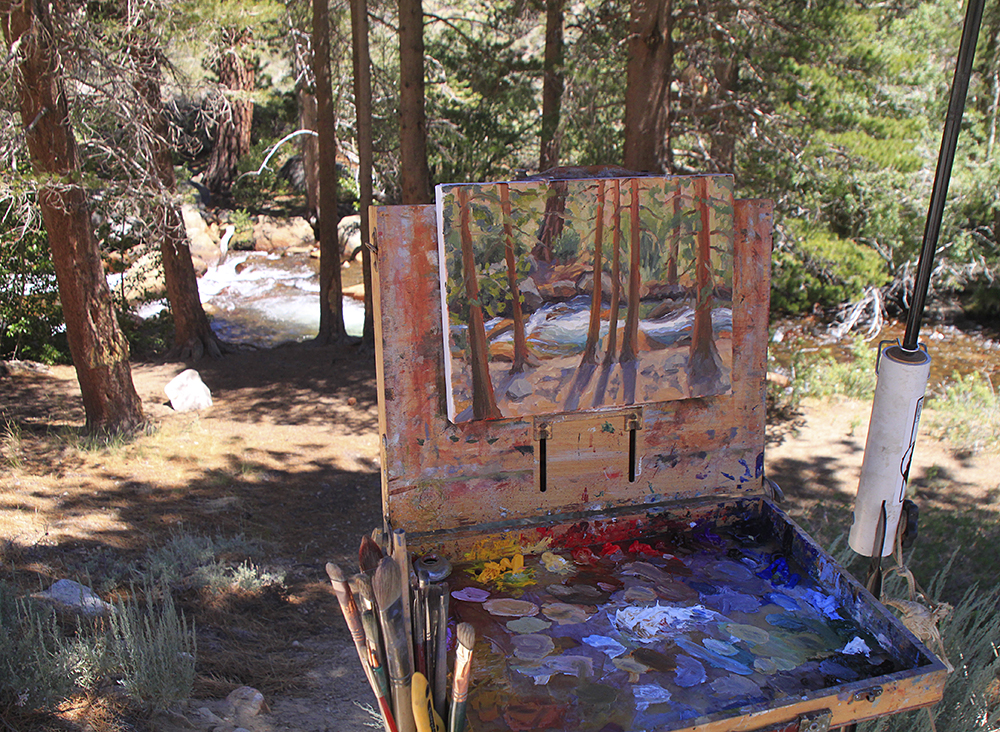 I at first do my oil sketch in a red-brown to arrange the subject matter. I have to do that or the painting will not proceed in an semi-orderly fashion. There`s always room for shifting things, taking out things or changing angles. I liked the horizontal flow of cool creek waters behind the warm vertical Jeffrey Pine trunks as sunlight streamed in from beyond. At 9am the light was on the right side of the painting but within half an hour it shifted over to the left side, so I changed my focal point. Better choice as it had more interest flowing over a big red granite rock and had a shady cove there.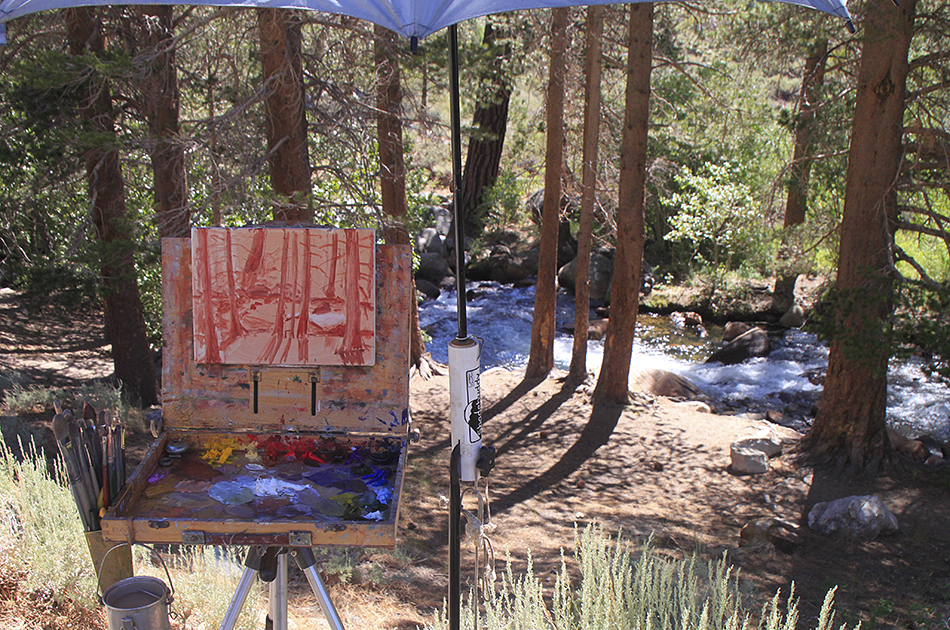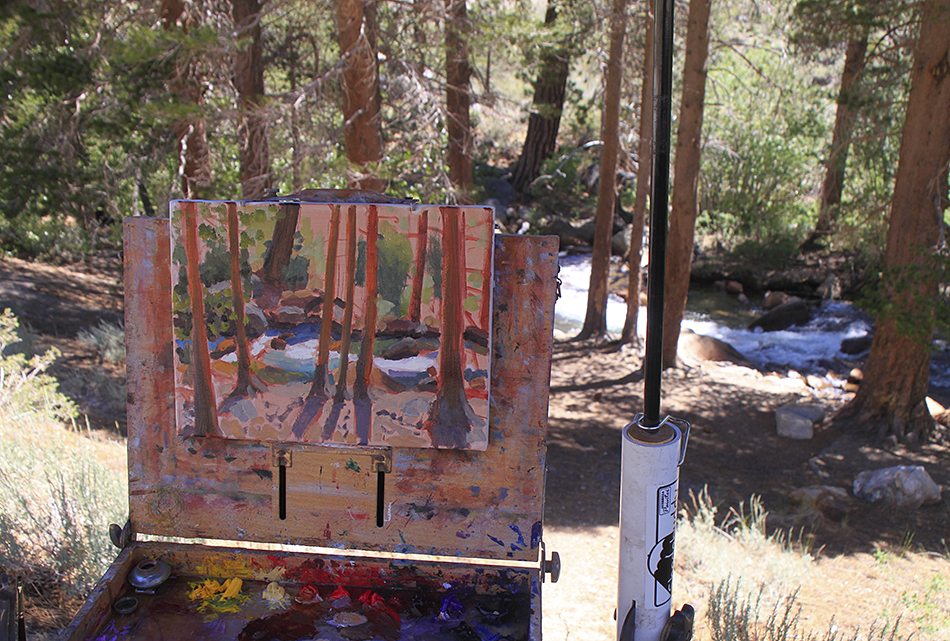 Above is the part where Charles Hawthorne calls it right, "The weight and value of a work of art depends wholly on it`s big simplicity - we begin and end with the careful study of the great spots in relation to one another. Do the simple thing and do it well. Try to see large simple spots - do the obvious first. When you go out and paint and things mean only spots of color to you, you have your painter`s eye with you." "See if you can`t simply put down spots of color and let the results take care of themselves. You have got to be able to see these spots come together without outline and let the outline come after. Look to the center of color spots and don`t be particular about where the edges come together."
Here is the link to Charles Hawthorne`s book on Amazon, approx. $7 in paperback.
This was a complicated scene so I had to think simply and not get into any detail or try pulling the color/value/shapes together until the canvas was nearly covered with my approximate color notes in varying shapes, say about 75-80%. I kept thinking about how the shadow shapes connected into a design when midvalue color notes were added. The colors of the creek were gradually layered in from shadow shapes to highlights. But, at first I put strokes of pure white titanium down where I wanted the lightest white of the creek to shine, then added slightly lower colors into it, carving the creek into a flowing shape, very careful not to obliterate or muddy the purest white.
In the last part, I pulled the blank parts of the canvas together with neutral colors that faded the background a bit, to give a sense of depth and atmosphere. I softened those shapes to recede, but I did not blend them totally. Plus I made a foreground pull together with warmer neutrals since it was sunshine on dirt. The trees were cleaned up around the edges and straightened, interwoven into the creek and background, then warmed up on the trunks.
Below is my location on the side of the road that is very less traveled, my Chihuahua, Dolce, taking a nap while I painted. Life doesn`t get much better than this morning when all turned out well.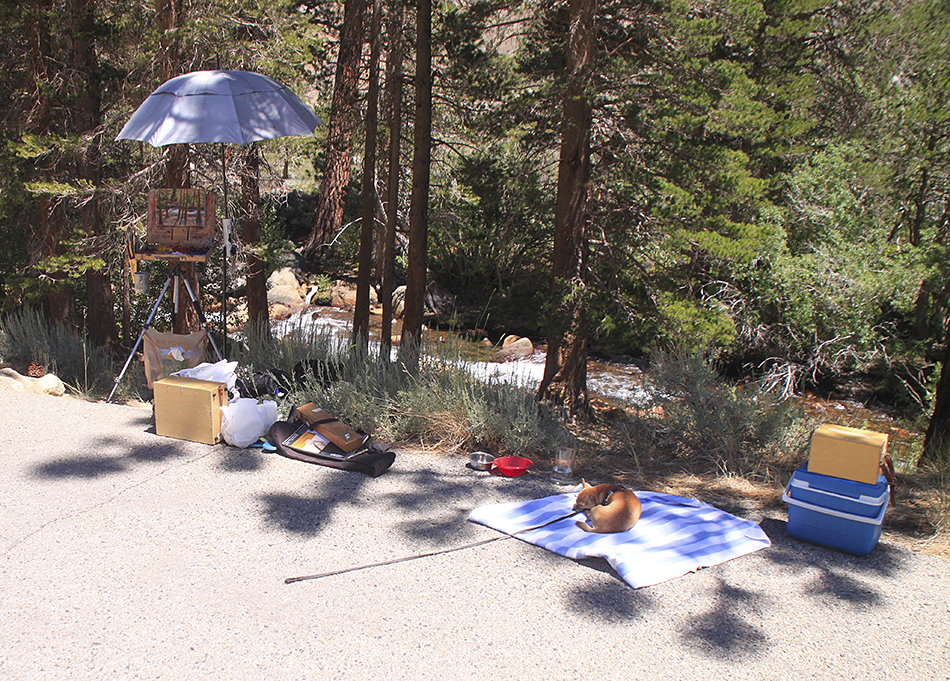 Dolce my great companion and best friend on her favorite towel. She`s a good girl.
Adios Amigas!