My pomengranate tree gave me a good bountiful crop this year, I was watching them grow more red with anticipation as October went by. I was enjoying consuming them too, so tasty. I just couldn`t stand the beauty anymore, I mean without doing something to remember them by, so I decided to paint them before I had to harvest them all. I am very fond of the backlit appearance on any any subject matter, so I arranged them on an old wine rack in the garden and a gallery owner gave me the persimmons on branches from Hamilton Oaks Winery. I tied them up, it was just an instinct to do so. It lended to the natural appearance of being on a tree still. An old piece of driftwood lumber lent itself well and acted as a fence. The backdrop of Monarch Summit in the canyon provided wonderful hues of blues to violets. As this took several days to paint, on the third afternoon as the sun was beaming brightly over the summit and ocean, a group of cummulus clouds drifted in. I couldn`t be more happy as they brightened the upper third of the composition giving more contrast and a sense of atmosphere to the piece. Plus those clouds saved my eyes from being blinded that day. This work took four days of painting during the short afternoon hours before the sunset. I was determined to paint it from life as it was a complicated scene with many nuances of light and shade and tons of negative space. Since I knew the leaves would dry up quickly without water, I painted in the shadows first, then the light values to capture the shapes and positioning. Sure enough, the next day the persimmons leaves were crisp like parchment paper and the pomengranate leaves were curled up like spirals. I cut some more fresh branches of pom leaves and kept painting from those, borrowing what I saw and shifting them into my painting. The weather was very warm each afternoon, we are having a late Indian summer in November. I enjoyed that everyday I was painting, except for the curled up leaves. Below I add a chronological set of images from initial sketch to completed piece.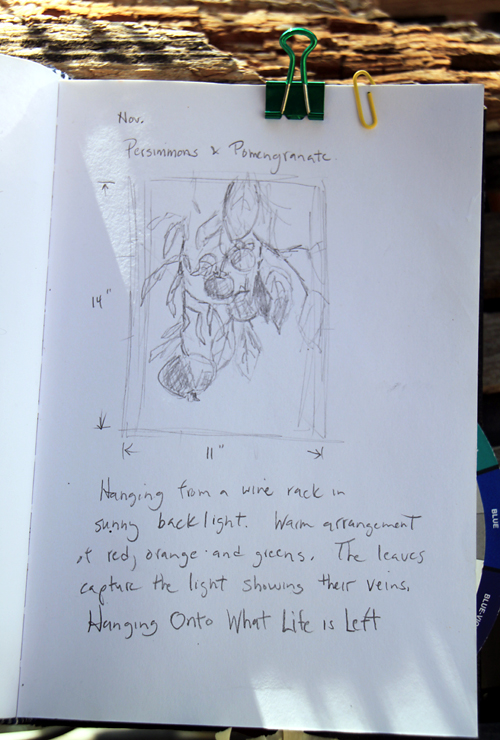 Pencil sketch in my book, I do these first thing to make sure I have the right composition idea. There are almost always changes from sketch to painting, I added another pomengranate and the driftwood beam when beginning to paint. The last line, "Hanging Onto What Life is Left" was my original title idea. I did not stick to it. I think I was in a strange philosophical state of mind that day.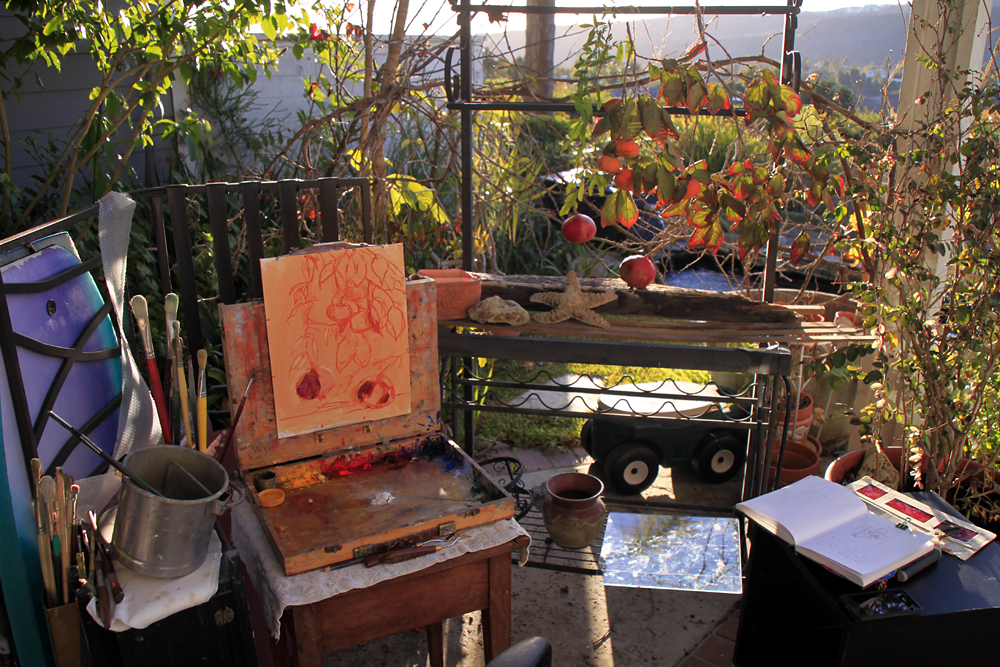 Above is the layout of my garden studio and the first oil sketch of the subjects on the canvas. This was not all I accomplished on the first day. The image below shows the painting after the first day, I successfully blocked in the essential leaves and fruit, being very tentative in my approach to positioning each major subject piece within the canvas. I took the below image the next afternoon though, right before my third day session and it already shows the leaves being shriveled. It was warm, dry air!
The image below was my third day when the lovely clouds appeared along the horizon. I blocked the whole painting in in the short session, less than two hours, then quit as the sun had set and it was getting dark fast. I knew I had another day of painting to fill in all those negative spaces of blank canvas between the leaves, twigs and fruits. You can`t see it well here, but they were everywhere. I wanted the foliage to be painted like this as opposed to painting it over a wet oil background already brushed in. The latter would ruin the crispness of color of the leaves. So, I had to paint the background later as a negative space, it allowed me to think abstractly and paint thickly at first. There is much textural brush stroke work as an addition. Those globs of paint make it more exciting and there still are loads of tidbits of bare canvas showing the initial flat toning color peeking through.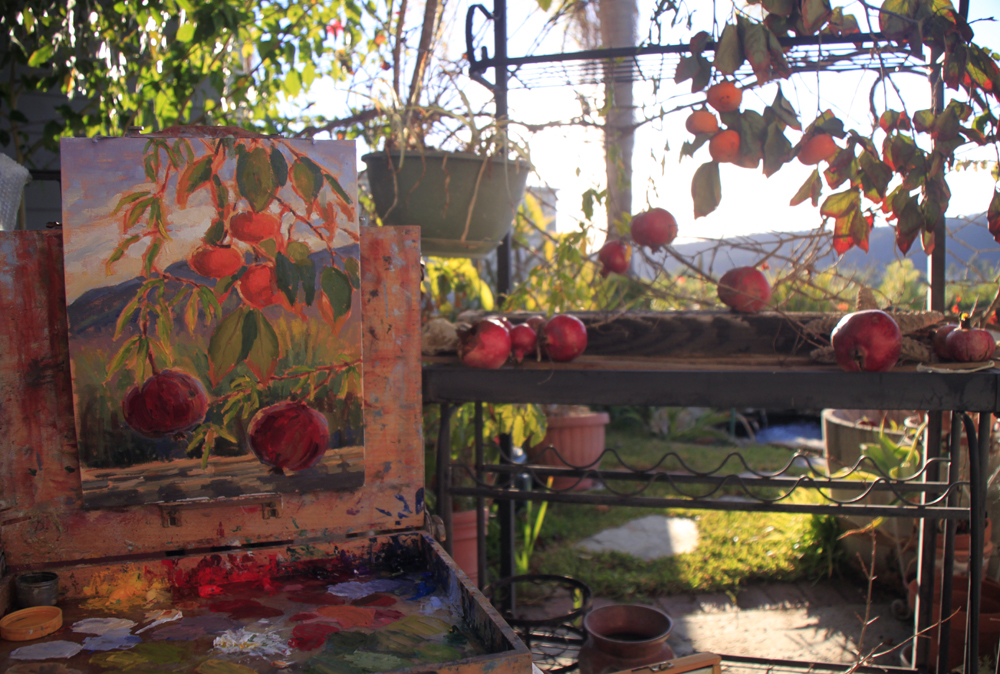 Below is the fourth day. Looking done, but I think a fog bank came in this day and I had to quit earlier.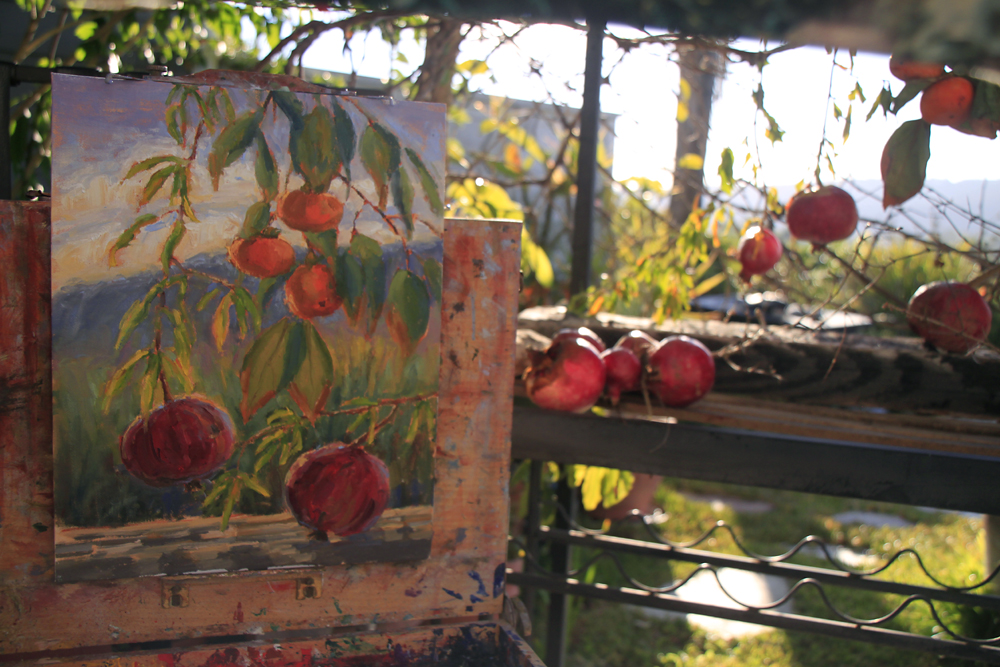 I realized I had enough information from four days of painting and observations and took it into the studio for refinement that evening. Although I used a digital image to make sure I was not painting the wrong sides for shadows and direction of light, I pretty much focused my eyes on the painting itself. I drew out the best qualities of the work of art exercising my right to pump up colors or contrast where I wanted to, then lessen or cool areas I wanted to recede. That is the sheer joy of being an artist, to really put our fingerprint or unique spirited self into it.
Below are two images that are close-ups of each pomengranate. Enjoy! Oh, and excuse me while I eat some tart and tasty pomengranates!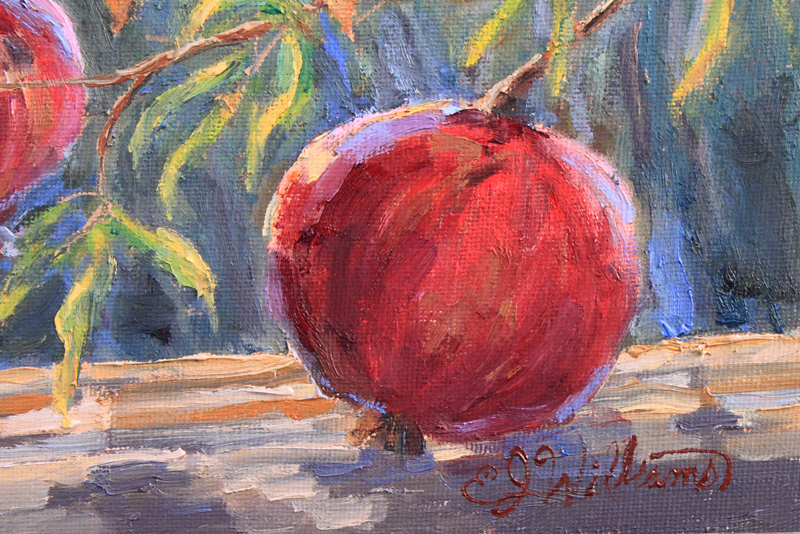 Below is the final image of the completed whole painting.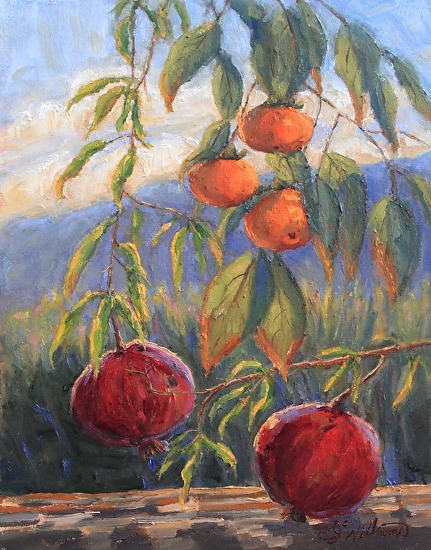 I will include a frame valued at $40 with this artwork. S&H is extra. CA residents must pay 8% sales tax.