---
---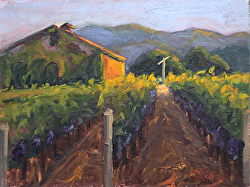 On a mid-September afternoon I set out to do a plein air painting of a Napa Valley vineyard. I had been staying overnight in Calistoga, California at a campground for a few days. I was going to paint a vineyard in that town. The sun sets earlier in Calistoga because the mountains are higher, so I drove down towards the valley more. I already knew where I wanted to paint, Grgich Hills Estate in Rutherford. Many times I have visited this Cabernet vineyard just off to the right of the old stone cellar building. It was time to paint it. The afternoon sunlight was fading fast, so after I asked an employee if I could paint out there, I set up quickly. I made a pencil sketch first to set the composition, made some descriptive notes and dove into action on the linen panel. In my notes I wrote, "Brightly sunlit vines, aisles are in shadow. It is a plethora of greens with violet Cabernet grapes."
Knowing that the sun wasn`t waiting for me, I used a large brush and blocked in the whole area of the canvas.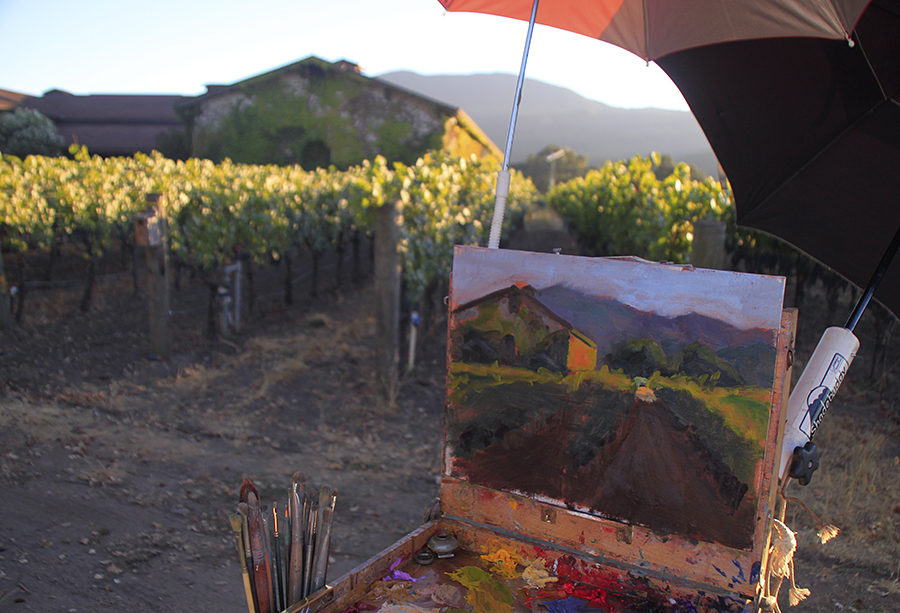 I used warm and cool greens that I blended on my palette. I blocked in that rectangle of warm orange to yellow green on the side of the building to keep those colors intense, the sun was blazing on that side. It was dancing across the vine tops making the leaves seem to move upwards catching the rays. The aisles between the rows of grapevines were in deep shadow but warm in color. Rich soils here. The Cabernet grapes looked almost black in the shadow, I knew I had to add a wee bit lighter value of blue-violet to them later. Just for the sake of art. The hills behind were turning various shades of color, it was hard to nail down just one hue with that veil over it, so I made cooler adjustments of blues and greens as the light went lower. Before I knew it, the sun had set and I felt I caught the feeling of it all good on that canvas. The crickets began to chirp loudly and mosquitoes were hovering over me. I had to get out of there, it was getting dark. I made a little film of it first.
I uploaded the short video to my Youtube page, click here to view it. My voice is a little deep, I was worn out! I also called it St Helena, it is Rutherford.
Here it is completed on scene: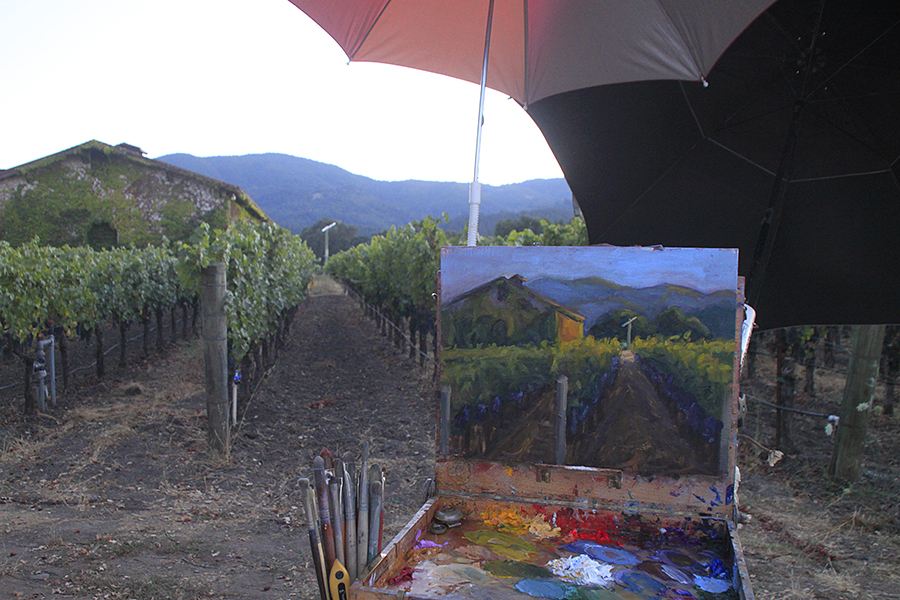 This is a very expressive piece of art. I thought maybe I could do some more refinements on it later, but as the next day began and I looked at it, I made up my mind to leave it alone, it has a pure essence to it. It is natural in it`s creation just like the vineyards there. I like the purity of expression in a plein air work of art, all of an artist`s thoughts, emotions, visual perception, state of mind, focus and upbringing go into it. I was raised around the Napa Valley and have a great reverence for it, for it`s land, history, people and climate. As a young girl I would run down the rows of vineyards with my brothers and sisters in the Carneros, Dry Creek and Redwood Creek regions. Good memories. By painting the vineyards now, I can reclaim that youthfulness and be part of the nature that surrounds me.
Comment on or Share this Article →
---
---
---
---
---
---
---
---