White washed cottage on the north end of Crystal Cove Cottages, bright aloe plants flourishing in the front yard. The wavy red fence blocks people from entering the closed cottages while they await remodeling. Lots of sand leads one to azure blue waters along the coastline. One small group of friends gathered for a sunny afternoon game of bocce balls and to enjoy each other`s company.
I liked this perspective of the cottage that appeared so tall near to me and the decreasing height of the bluff as it nearly disappears towards the southern seas. I liked the red in this as a offset to the light sands. I liked the decadence of this cottage. I most of all liked the appearance of a dreamy, beachy atmosphere that I applied using loose, nearly out of control brushstrokes. It was for the most part painted on location and that is why it shows strong and gestural strokes with clear shapes layed down, not tampered with at the studio.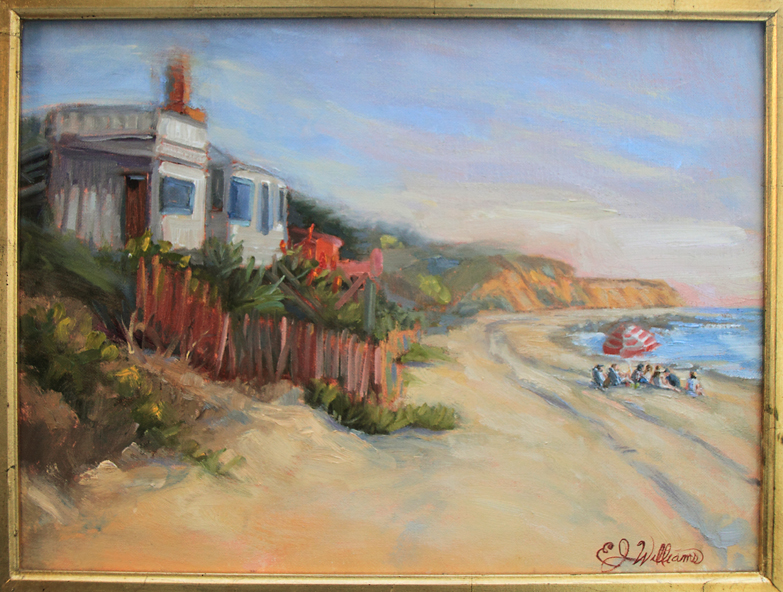 It comes in a basic gold frame at this price. The inner frame edges may appear warped but that is only my camera lens at fault. I assure you it is straight. If you do not wish to have the frame I will deduct $50 from the price. Shipping is extra if purchased through PayPal.
Below is an image of where I painted this at the Crystal Cove State Beach:
Below is another image of myself on locatio painting this piece. I really enjoy the painting process while being able to capture the essence of light, life and spirit of the scene.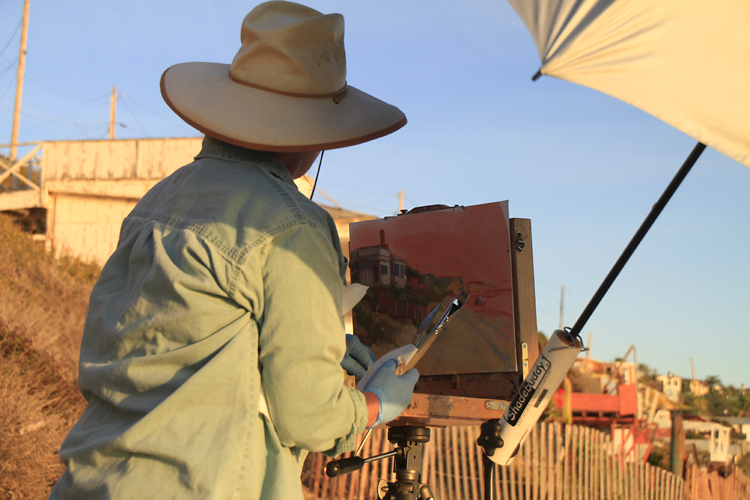 Any excuse I can get for painting at Crystal Cove is a good reason to escape the house to paint those cottages and crystal clear waters.