Commissions by EJ Williams
I do take commissions, meaning if you have a place, subject, portrait you would like painted, I may entertain that depending on what it is. I prefer to work from life as the artist`s eyes see more than any camera can. A camera will take a literal picture with all the details, an impressionist artist must be there to see the tonal gradations, light in the atmosphere and the subject matter along with absorbing the feeling of the place. It is from all this and more that we abstract our artistic rendition. The visual combined with the feeling of the location and the artist`s spirit create the most heartfelt works of art. The best way to do that is by painting a workstudy en plein air (on location). I can paint a refined plein air piece of your choice of locations for a finished, commissioned artwork if you prefer plein air over studio but they can not be too large, 16x20 is the largest I do for plein air. Or I create a more painterly workstudy as a reference for a large studio piece, 16x20 up to 60x48 or larger even. If it is a figural work, then I want to paint the person in the studio or at a location outdoors, weather pending. I began with drawing sketches and make notes to get a good feeling for the design qualities and composition, then paint a loose workstudy. From there I move onto creating a larger piece.
There are monetary requirements to begin the process of fulfilling your commission. 25% down to start, 25% after approval of workstudy to begin the large studio work and the rest, 50% when the large work is complete and approved. You purchase the frame and I can guide you on those choices.
At this present time I charge $3.00 per square inch of painting space, for example, 16x20=320 x $3.00 per sq inch = $960. For works larger than that I will reduce my per square inch to approx $2.50 per square inch. For Example, a 24X36=864 x $2.50 = $2,160. My prices go up approx 10-15% each year, so keep that in mind. This is my 2012 rate for the whole year and it is half what a gallery price might be.
I could add so much more, but let`s make it simple so I can have the time to finish my other works I am presently painting.
Meanwhile for commission inquiries, go to my contact page on this website and send an email with your request.
Here is a commission piece and my explanation of the process:
"Cirque du Pond" 18x14, oil on stretched linen. Private collection
To create this studio work of art, I went to the Mission San Juan Capistrano several times and painted small 8x10 to 9x12 workstudies. I have painted and sketched on location there many times.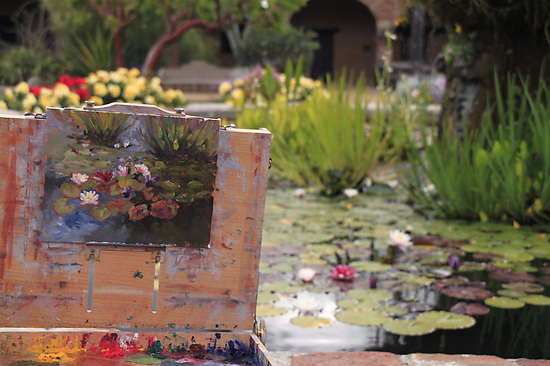 On location at the Mission San Juan Capistrano May 2011. The workstudy is created loosely but not a mushy mess of dashed in color notes, it is a compilation of the mood, the light, the natural colors and the focal area. In different paintngs with unique compositions I many times re-arrange the waterlilies to enhance the focal point. From this particular painting I took my 8x10 home for all the jewels of colors it gave me to go on. I even worked on the 8x10 at the studio to refine it into a better finished piece since it was going to the collector along with the larger studio created work. There is a special light affect at this pond where one side is dark behind the large fountain and the area around the fountain is high key, light streams through the reeds casting a unique gradated light across the lilies, pads and water. It is a difficult scene to paint as the reeds cast swirly reflections on the water around the lily pads. The Koi as they swim through the water cause light reflected ripples which indicate they are underwater. Without those, they will look to be on top of the water. My high quality SLR digital camera is fitted with a circular polarizer filter to cut down on glare, so I was able to use my digital images of swiming Koi as a great reference in the studio piece.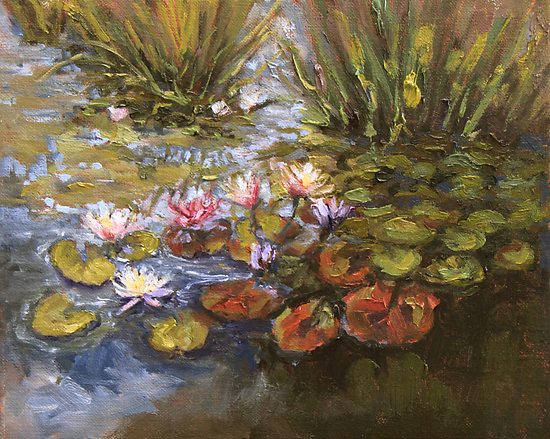 "Waterlily Cluster" 8x10, oil on linen panel
I found in my sketchbook notes I wrote on the day after I painted the workstudy, it is originally from Edgar Payne`s book, "Outdoor Landscape Composition" 'Sharp contrasts of extreme dark and light cause an agitated feeling, while the more closely related graduations produce a restful feeling. The analogous values and colors produce the feeling of restfulness.'
There he talks about the 'feeling' an observer of the art receives from a painting. It is up to the artist to create that mood to relay a feeling using blended color combinations in correct values and the arrangement or unity of the composition.
The collectors are extremely content with this commissioned work as they own a koi pond and know what they wanted. I have a small koi pond that was inspired by studying Monet for years. It brings me many hours of peacefulness. I only hope the painting does that too.
Thank-you,
E J Williams