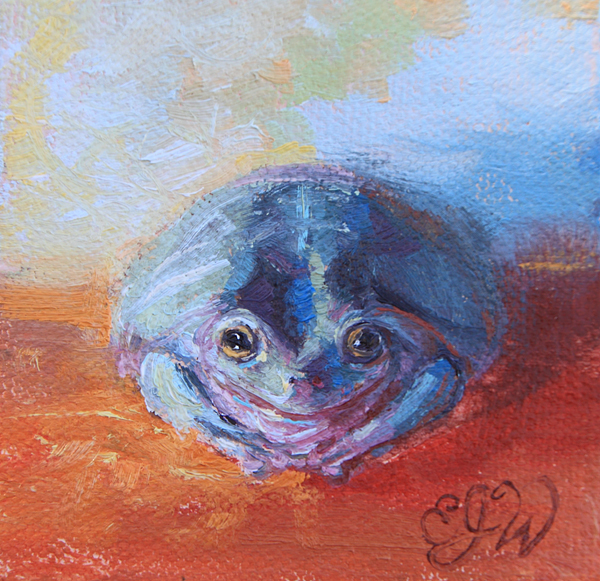 Cheery Tree Frog 3" x 3", oil on mini canvas with easel.
When I was a little girl of five years old, my family took all us kids to Colorado Springs to a Dude Ranch. We had ten kids in the family, one wasn`t born yet at this time. It was an exciting trip in 1960 as I got to go on my first plane flight. They were serving frog on the plane for lunch and I think I gagged, I would not eat it. Sure enough, when we arrived at our cabin high up in the Colorado mountains, they had a large amount of frogs invading the area. Oh, it was my lucky day! I took some old tin cans from coffee my mother had and filled up the cans with frogs. Maybe they were toads. I got a few Kodak slides showing me with them in my hands. As soon as I figure out how to get digital images from the slides, I will add an image, but don`t hold your breath. I need to find them first and take them to the photo lab.
These green frogs were so slippery and jumpy, I had fun trying to catch them along with my six year old brother John. It was a race to see who caught the most. We weren`t supposed to bring them into the cabin, but we did and I was told they got out and jumped into a piano. I wish I could remember seeing that, frogs jumping out of a piano and hopping all over the place. Maybe I was tired and took a nap after all that hard work catching them. So, my mother had to collect them all and put them back outside where they belonged. Fifty some odd years later, I have a good memory of that trip and the frogs in my hands. I love to bring that story up to my mother and hear her laugh telling me it again.
February 9th, Update from my sister Sandra Williams in her words:
"The day the frogs got out of the box was on a Sun. when all the guests were in the dining area for brunch including our huge family. John had set them inside the up lid of the baby grand that was in the sitting area. They got out and were making music from the piano, we got in a lot of trouble for that incident as well as catching the baby ducks and putting them in the dresser drawers after being told not to catch or bring them into our cabins. I can still hear the squeals of a lot of guests when all those frogs were seen jumping all over the place. I was 10 then and remember it well. LOL"
Great addition Sandra, how they got into a box and the piano was my brother`s doing! haha!

I do have a green tree frog now, he is a Whites tree frog from Indonesia. One of my daughters had to have one about ten years ago, so guess who took care of him, me of course. Unfortunately the first one died and I got a second one, years later he died and I bought this present one. They are supposed to live for fifteen years. They have just been named Froggy, or Froggy 2 and this one is Froggish. He is four now and very healthy. I never let his water dish get low. He will hang out with me all day if I let him stay out of his terrarium. The other day I let him rest on my laptop since they like a warm rock, the laptop was warm and he will just sit there. He rather sit on my shoulder, they love to climb up your arms to the neck. That is a tree frog for you. Later in the afternoon I put him on an old warm brick in the sunlight as the sun was going down in the western skies. I painted this miniature of him. He decided to jump at me several times, so it wasn`t a perfect sitting, but he wasn`t getting paid, so he got frisky. All he does is eat crickets which is the gross part of taking care of him. He does need to eat you know.
Here is Froggish on the old brick: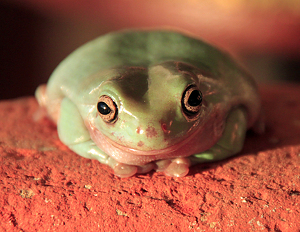 I have started a series I am calling "Palm Art." They are mini canvases small enough to fit into your palm and I am including the mini wood easel to display them on. Just to let you know, I put the same amount of serious thought and care into these small works of art as I do a larger one. So, a lot of labor and expertise can go into a small space, believe me. But I enjoy this subject matter immensely and this is not the first time I painted my frogs.
Here are several more images of the painting on the easel. The colors in these images are not as accurate as the first image of the painting. They were taken in the morning shade and it muted and darkened the actual colors.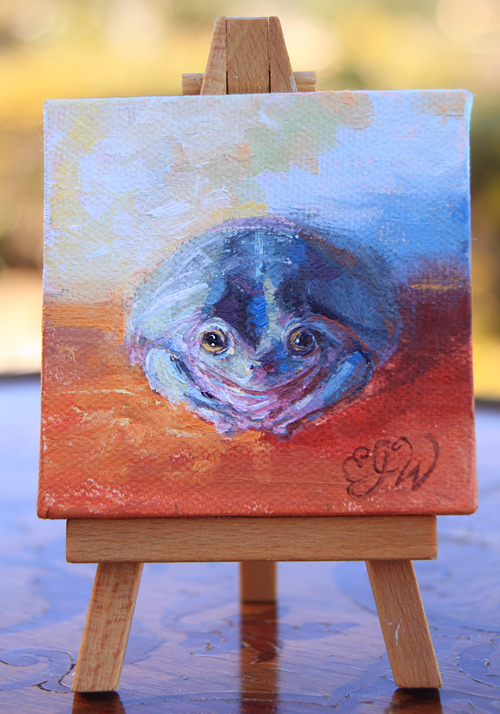 The easel is included in the price.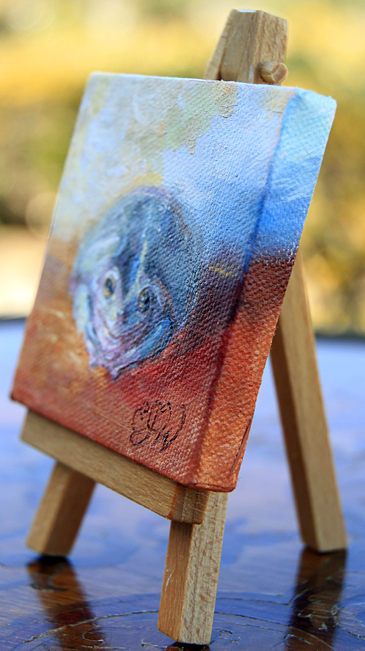 The four sides of the canvas are painted as a continuation of the colors on the front edges.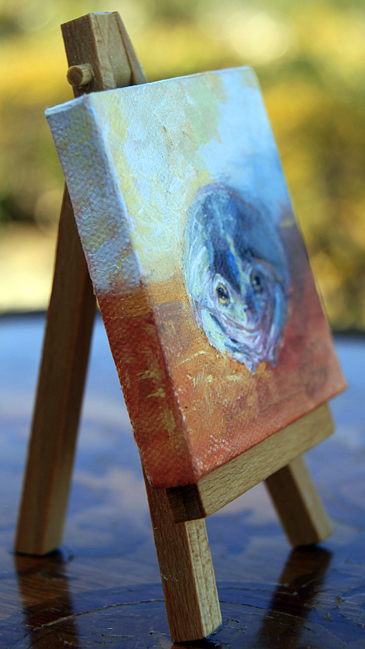 Here is an image of how it compares to the size of my palm: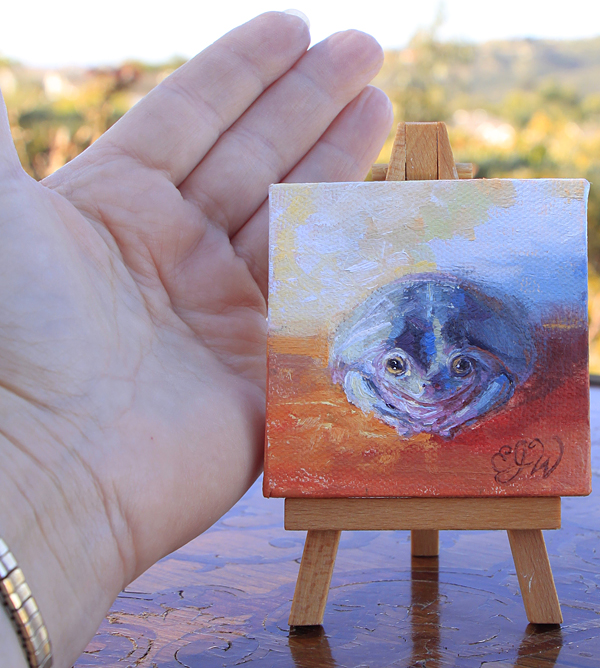 If this is sold and you wanted one, I will be able to paint more, it will be from an actual, real life frog pose, so it will be unique. I love painting from life, I do take digital SLR images and add fine details later from the image. Most of the work is done from life as I can see the colors and values correctly.
Thank-you for reading and viewing!