Sometimes I have to paint something to treasure and hand that down. This painting is such a piece. I acquired an antique solid wood frame that didn`t have that gessoed sculpted design all over it. The natural wood color was aged red-brown. I think it is mahogany or walnut. I had a linen panel cut down to it`s size, it was a landscape panorama size, but I kept thinking a waterlily pond like Monet painted would be perfect for this. I don`t just like Caude Monet, I love the guy, so I studied his works in person and read several books on him. He has been a great inspiration to me along with the French Impressionists. I even built a waterlily-koi pond because of him in my backyard. It is not as big as his, I went to find a larger one like his and discovered it at a Mission one day ten years ago. So, I went down to my favorite waterlily pond at the Mission San Juan Capistrano and set up to paint this en plein air. I spent three hours, it was not my first time painting at this particular pond, I have sold several pieces before from it. I always felt like I gave birth in creating these paintings and then gave the child away. I wanted to keep this child (creation), I knew I better work fast and furious to capture all that was going on. Since I knew this was for myself to keep, that artist child which was born in me came out without any worries and I enjoyed the process of recording the patterns I saw, the light and the vivid color of the waterlilies. The water irises and tall leaves made strong reflections in the water since it was a bright sunny day. Butterflies and dragon flies were everywhere, just not going into the painting composition, they did have a dreamlike affect on me still. The angle I chose in this round pond around a large fountain went from dark values to light in a perfect 2/3rds dark and 1/3rd light with the brightest light in the upper third or ninth of the scene. I abstracted what I could from the lily pads and their long stems coming up from the deep water. I left a lot of areas unfinished because I wanted a spontaneous, fresh, loose, impressionist look. I was building it by blocks and shapes of color placed in and not painted over again, lots of strokes laid in with thick paint. Warm greens, cool greens and red-violets with orange-reds. Not overly tight and everything fused into stiff edges. I used my diamond shaped palette knife to paint the last lines and the local color Violet of the waterlily flowers to give some thick impasto affect. After painting this pond so many times, I felt an evolvement of understanding the pond, it`s special shadows, depths and sparkles of light glistening off the pads floating in the water. Also how the light transistions as it goes from the shadows to the light and from behind the reeds, how it affects the colors and values. Now I am ready to paint a 48"W x 24"H piece like this scene from this workstudy.
Which is another reason why I am keeping this, I am not sure when I will start that large piece. I will later add an image of how it appears in that wonderful frame as it hangs on my wall.
Below is when I completed the piece and a local wedding photographer happened to be taking pictures of a bride and groom, so I asked her to shoot an image or two of me. She was very professional and used a flash on my camera since I was backlit. Oh yes, it was very hot, I think 100 degrees or near that.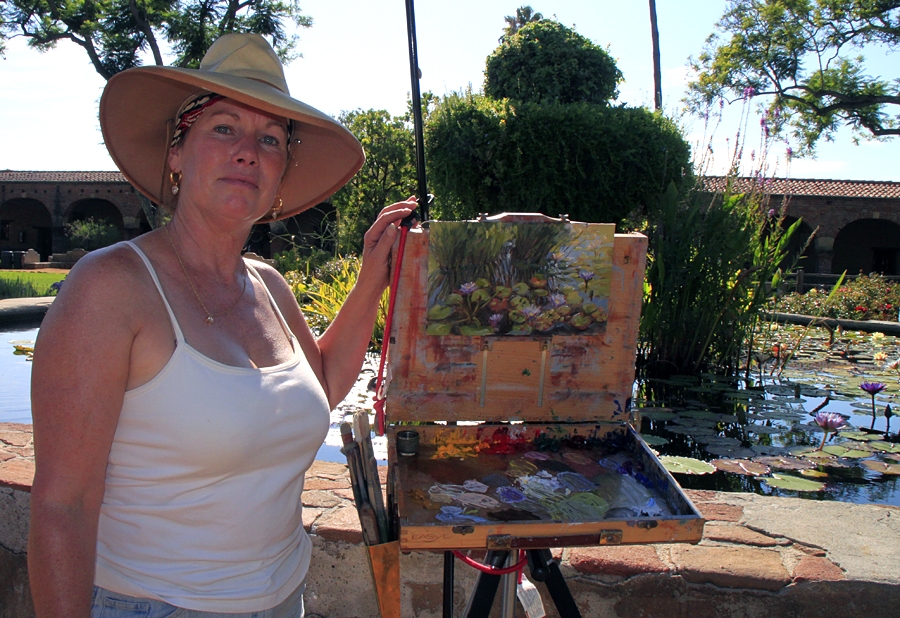 Below shows the painting again by itself next to the scene at the Mission SJC. It felt like a wonderful day to be alive to me.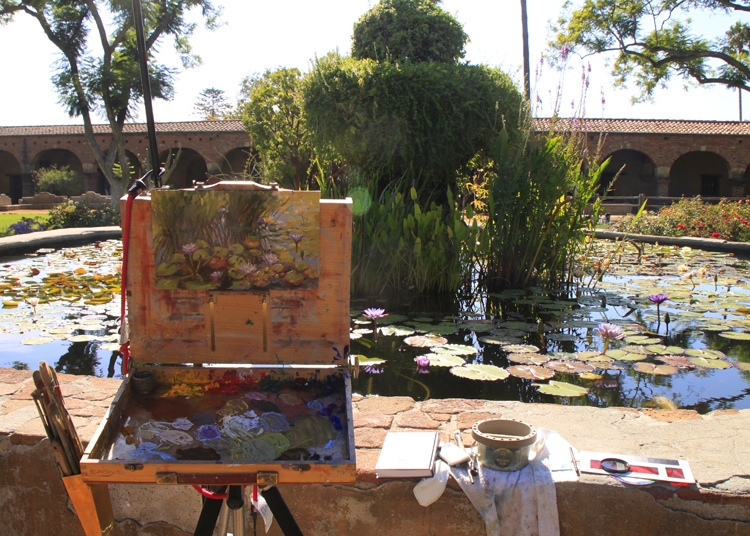 If you are interested in a commissioned piece based on this scene, send me an email and will discuss size and price.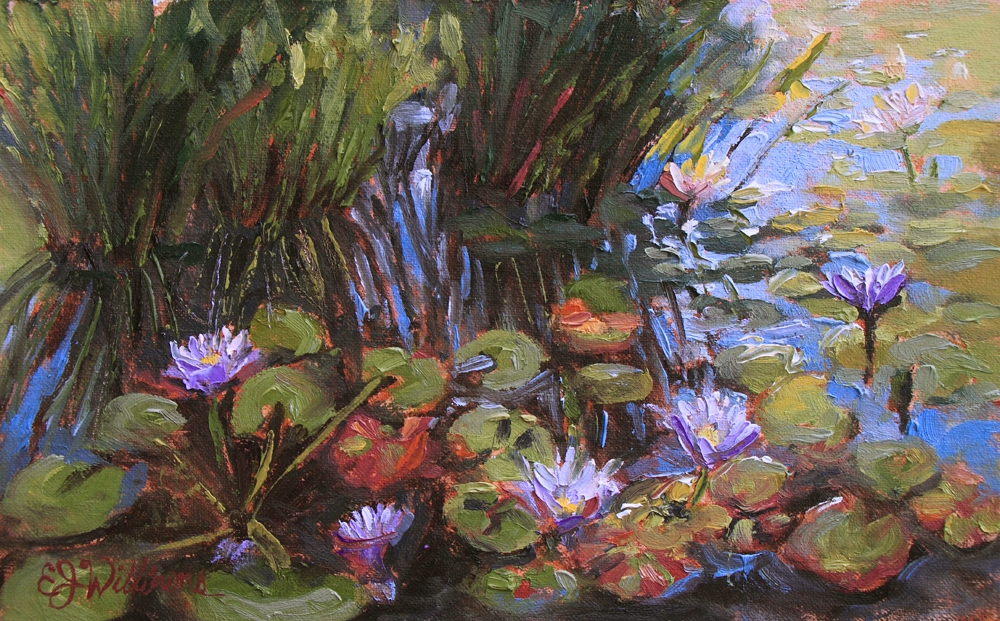 Thanks for viewing and reading! Enjoy creating!