I painted this Crystal Cove cottage the other day on location, well, not completely. I had to put the finishing touches on it at my studio. You see, I was washed away, not completely, by a tidal surge. Two minutes before it happened a lifeguard truck came by, the lifeguard told me to look out for a surge of waves coming up from the Baha peninsula. I laughed it off as I looked at the water`s edge about fifty feet away. I said, na! The position I set my easel in was far enough away from the last wet spot in the sand. It didn`t matter, a surge is nothing to fool with, it is like a tidal wave, it pushes with a ton of force. So, there I was painting away with my back to the ocean, sitting in my wagon. All of the sudden water is rushing under me, I lifted my feet up and let it go under the wagon. But in my beach chair was another painting, clothes, paper towels, my paints, my camera bag and more. It soaked most everything and filled it with wet sand. Luckily, my camera bag was nearly water tight. I yanked it up as soon as I saw the water. Now, you think I would move myself and the easel further away, but I didn`t. I wanted to finish this plein air style. I tried my best to keep up the pace and complete it, only to get washed over again and again. This was purely joyful to me, I am a Picses and love water. Not afraid of it one bit. Finally my wagon started to sink and the plein air umbrella uprooted and flew over into the running wet sand. I took that as a sign to quit. After I moved everything close to higher ground, the waves came in even more. I was glad I did move or risk seeing my easel go off into the backwash. You can watch the uploaded videos I took and posted on Youtube below to see and hear that ocean sound:
This painting has that atmosphere of the ocean in it, the cottage sits perched on a lower bluff with a feeling that you could almost slide out the side door down the sandy path into the beach sand and run into the water. The cottage was built to feel as if you were part of the ocean with all those windows facing the coastline. Both myself, the artist and the painting are a part of the ocean experience at Crystal Cove. Everything I felt that day of the salty water, air and sand was transformed through me to help create that aura in this depiction of this lovely arrested decay 1930`s cottage.
Below is an image of where I was when I painted this.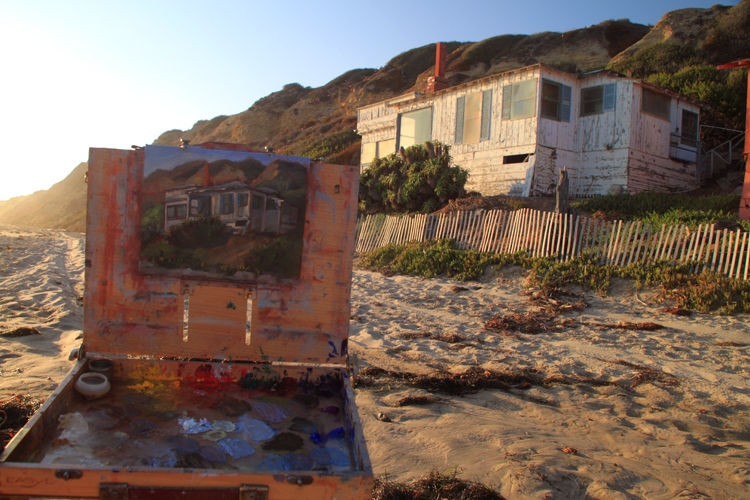 The image below is a fresh digital of the painting. It is still wet paint. A later image will be taken to show how it looks dry. If you are interested in this piece, I can email you a higher resolution image of it. Please send an email through my contact page. The price $350 is for a framed piece, you can subtract $50 if purchased without a frame. Shipping and insurance are extra. Thanks for viewing!