Here is the Crystal Cove cottage of the artist Roger Kuntz. I painted this workstudy and intend on painting the cottage and more of the landscape on a larger canvas eventually. I must hurry before the state of California strips all this nostalgic construction to remodel the cottage for a rental unit, I am told I have a year or two. It is located on the north shoreline at the nostalgic beachfront of the Crystal Cove State Beach in California. His works can be seen in the book, Crystal Cove Cottages: Islands in Time on the California Coast.
You can order the book through the Crystal Cove Alliance Store, proceeds will go towards renovating the cottages. This book is where I first learned about this artist and discovered the cottage where he lived. I am drawn to this cottage for it`s story of an artist and his family spending many a splendid summer here before it`s closing up in order to be renovated. One of his relatives purchased one my my earlier Crystal Cove pieces and that is how I found out a little bit more of him and their family. They used to love to get abalones off the tidepool rocks when it was legal in the 1960`s. He spent hours on this deck painting. His extended family had summer sleep-outs on this deck. So, it has history that draws me in by the fact that an artist`s spirit is still lingering here. I am not sure if he met his untimely death here at the age of 49, if so, then his spirit may very well be here.
There is another article from the LA Times on Roger Kuntz about his major exhibition at the Laguna Art Museum in 2009. He was a very talented young artist with a varied style, I admire that in an artist.
Below you will see several images of the day I got to paint this cottage where he lived his last years of life.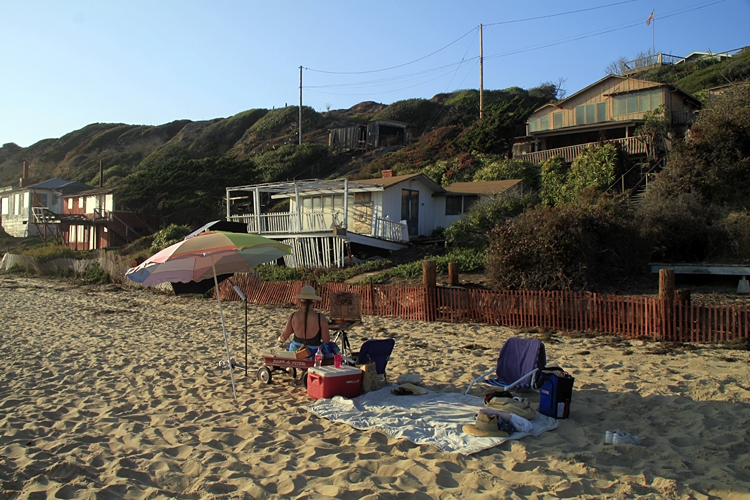 I was there on the 4th of July with my husband having a picnic. It was a perfect day for painting.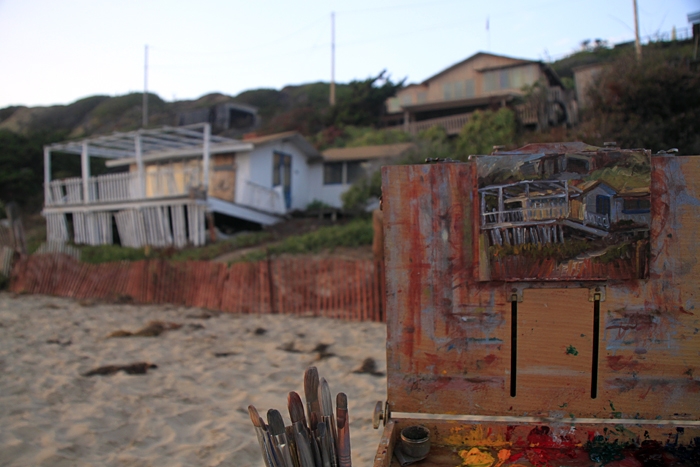 After the sun went down and it was time to celebrate the 4th of July!
As I always indicate, if you are interested in a work of art similar to this piece or one of any of my Crystal Cove artworks, send me an email on the contact page. Thank-you!