This was painted to make a larger impressionistic work of art of the iconic Crystal Cove. I began with a smaller work that was began on location to build up to this big oil painting of 48x30 on canvas. It is on my website, titled "Bay of Crystal Cove" 16x12.
The cottages were placed here decades ago since the late 1920`s because it looked like a tropical paradise in some foreign island. Ranch hands camped down here and spent summers in tents. Filmakers planted tall palm trees and other tropical plants to shoot some of the early silent films. Soon, rugged vacationers made this beach their summer home by first tenting here, then building these cottages along the dip in the bluff off the Pacific Coast highway. Which back then was called the old coastal road. In painting this I wanted to time stamp how it appears now with the last of the sixteen cottages on the left side still in arrested decay, waiting for funds to remodel them. The Crystal Cove Alliance heads the efforts to preserve this unique historical culture that once ruled life here. The State of California owns it as a State Beach so there is no worries about it ever going away to developement. There is a magical air to this place and I hope I transferred my feelings of it into this work of art. I spend tons of time here and have oftened stayed overnight in one of the rental cottages throughout the past six years. Although this is an impression of how it appears today, minus the beach people (it was cold and after a storm cleared) I do feel that my artist spirit may have added a nostalgic air to the whole piece. People who have seen it say they feel it looks like the old times. I may make this available as a gilcee print on ImageKind soon. Ask me if you are interested.
Below is a close-up of the area of interest.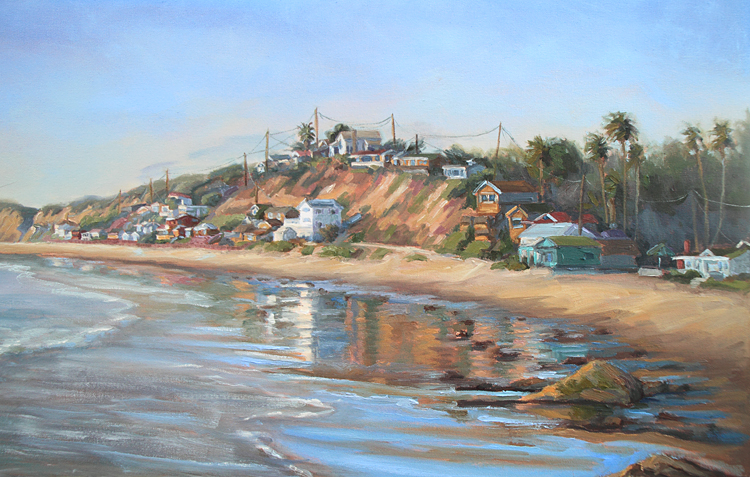 I will write more of a description on my process in creating this later. This painting made it`s debut at the Share Our Wine fundraising event on November 19, 2011 in Newport Beach, CA. Shown below is an image of that night with myself next to the freshly completed work. It was still wet paint and I had to make a sign to warn people so they did not ruin their stunning fashions. I am very happy to announce that I will be a participating artist in next year`s event. This year they picked one of my artworks to be the advertising image to promote the event. Next year I will create one specifically for them. Below is the image of the night I appeared with the work at the event.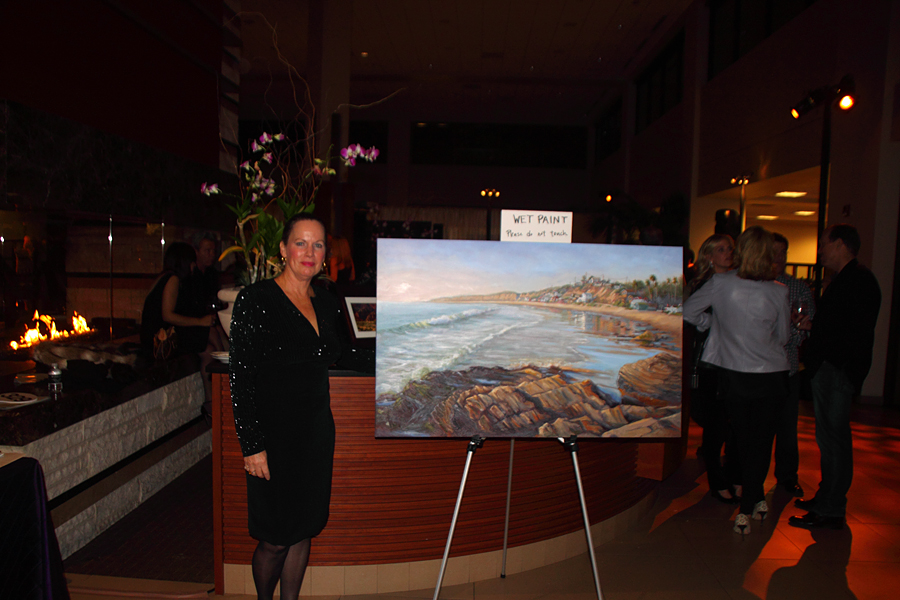 It was an extreme pleasure to meet so many wine collectors and therefore art lovers that evening. Most important the cause was to help fund children`s charities. I am grateful to have met some movers and shakers who help present this event. I am looking forward to contributing in 2012.
Here is a larger image of the "Reflecting on Crystal Cove". It will be fitted in a beautiful 3" width black wood frame with a rustic gold lip. from Randy Higbee, King of Frames. It is called the Plein Air Black #2 and you can see it here on their website. If you want to pick your own frame, I will contribute my wholesale cost towards your extra purchase in the amount of $250. This price of $3,500 includes this frame and you just might love it, but he carries a wide assortment of quality frames, including gold plated frames.