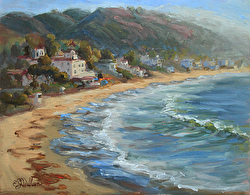 I painted this iconic Laguna Beach scene from Heisler Park in front of the Las Brisas Restaurant on Friday, October 7, 2011. The afternoon light was filtering through an ultra fine marine veil that made this appear as if you were looking at it after waking up from a dream. I thought this was too beautiful to be real and I would soon awake.
After sketching this scene in oil back in June, I had a good composition idea already mapped out on this linen panel. I sanded down the first oil sketch and went right into painting this present scene on a sunny, ocean atmospheric day in October. The way the ocean curved towards the Laguna Hotel was a lead in to the focal point which is the hotel. All the strands of seaweed or kelp also gave a linear directional point towards the focal point. So did the line of the green wave rolling inwards give a directional line. The Laguna mountains behind provided a perfect stage backdrop in it`s multiple colors of greens, grays and blues. For artistic reasons I added a muted alizaron crimson to compliment and balance the greens. The trees in the city of Laguna Beach hugged the architecture. All the buildings on the coast proved to be too much detail and distraction from the hotel, so I faded them out towards the sounthern coastline. The expanse of the ocean waters moving in with the tides was a pleasure to capture. The direction of my brushstrokes does give a movement and authentic feel of the ocean. I purposely did not make this an intensely color saturated work of art, the distance of the hotel needed to be kept at a believable scale and color values to provide atmospheric perspective. Because that area was the focal point, I did not make the ocean waters too blue or green to distract from the hotel, the ocean is a large part of this painting and I kept the color tones softer to add to the dreamy feeling.
This was sold on the day I painted it to a wonderful couple visiting from Texas. Thank-you Vivian and Marty!
Below are images from the day I paintined it. I did add a wee bit more brushwork back at the home studio to give it a cohesiveness and complete it.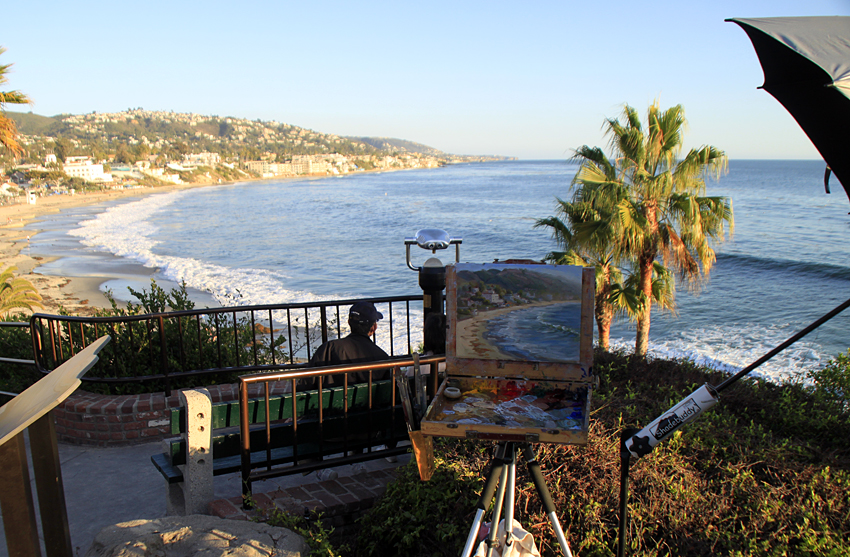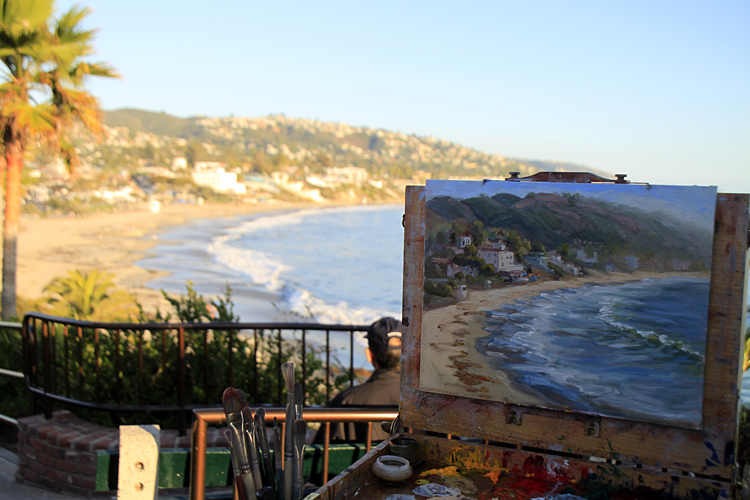 I will be going back to this location to paint it again for another couple who were visiting from out of town and wanted a painting like this with a little difference. If I am to paint a scene again, I always make it unique. That is the way of the creative artist, we discover new ways to interpret our subject.
Comment on or Share this Article →
---