I was intrigued by color recently and decided to embark upon studying it. I have just completed a color chart for experimentation to develop more color hue and blending awareness. The oils I use are
Gamblin Oil
Colors, I like their colors and feel of the paint. In fact, Gamblin has a page about
Navigating Color Space
with an exercise in creating a color wheel too. I followed an exercise in a college art school book to make a chart of all the basic colors on the color wheel and how the complimentary colors blend to make a neutral. I also completed an exercise on how each of the twelve colors on the wheel gradate in value with the addition of white or black. Since I paint in plein air impressionism a lot, I chose a limited palette of red, yellow, alizaron crimson, ultramarine blue, violet, black and white to mix all my secondary colors. It was an exercise that was fun, but also a difficult to finish. I would rather be painting, but I felt this was a growing measure I had to do and it was all worth every effort. In the image I provide below, you can see on the left side is a rectangular section with the mixtures of complimentary colors like yellow blended with violet in steps, blue blended with orange, etc... On the right side is a longer rectangular with each color blended with white on one end or a chromatic black on the other end. As I mixed each addition of color, I thought to myself, what color in nature can I identify these with? I came up with some color names, but after awhile, I just decided I will know it when I see it in reality. Don't ask me to name them all. When I mixed them, I realized that if I added one dab of color too much, it skewed the portions and value or hue, it was a drill in being like a chemist. I had a 16"H x 20"W sheet of canvas, so I drew out little 1-1/4" squares to squeeze this all on the limited space. I enjoyed the gradation of colors in the right chart. But in the complimentary chart, I think they turned to muddy brown or green in the middle. That is because the secondary colors are blended from yellow, red or blue and if you keep mixing those up, you will have many shades of brown and green. You can see those colors any day in the dirt or leaves, mold, tree trunks and on and on. I will just call them muddy colors but there are many various browns and greens that will add a natural look in landscapes. Those colors I made may be in contrast to what colors you can achieve if you buy secondary colors by a oil paint manufacturer and mix them little by little into each other to make a neutral by blending half and half. I am mostly keeping with using a limited palette and become a master at creating beautiful, natural colors for my paintings. This will hang in my studio for reference. I will make more neatly arranged charts again, it really taught me something about color`s many hues.
One if the most important lessons I learned is how I can achieve a hierarchy of color/hue/values in a painting to create depth and atmosphere. By looking at the chart of values, I can see a delicate change from the tinting with white or adding black in stages, this type of appearance can add to a painting`s impact if applied in a similar way with color blends dedicated to the scene. Another lesson I learned is how adding a cobalt violet to yellow and yellow-orange is better to create darker values of the yellow family than adding black which turns it green. The test strip for yellow orange tinted with violet is on the lower left bottom side. I decided to add cobalt violet to my palette to keep from making a violet that is too close to a blue violet like I have in the chart on the right. I use Alizaron Crimson mixed with Ultramarine Blue usually for a hand blended violet. I still will make it, but when in doubt, I will use the tube violet. Three more colors I like to use are Cobalt Blue, Raw Sienna and Yellow Ochre in my paintings in small amounts for specific areas. Cobalt blue makes vibrant skies and water, Raw Sienna is a warm brown that can be mixed with white or black in grades that won't alter it much. Yellow ochre is my favorite sand mixing color, just add white with a touch of blue.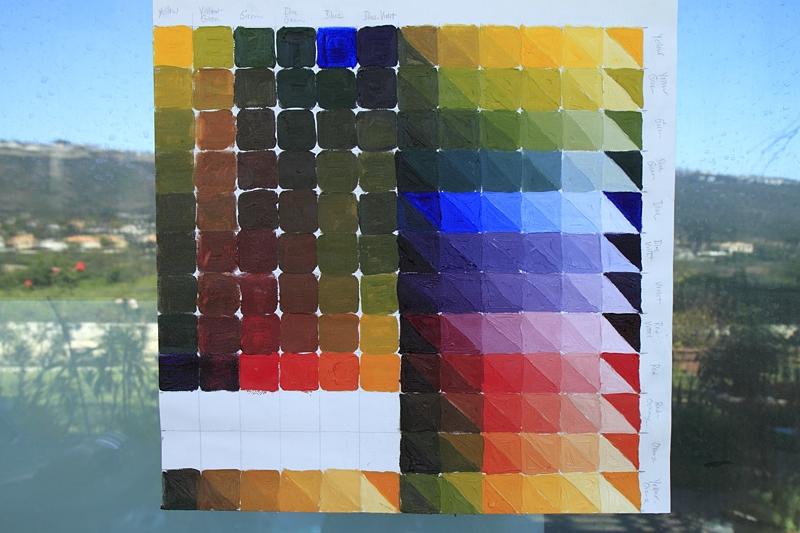 I advise any artist to build these charts in whatever cadence or shape you can. I would like to draw a large color wheel on a piece of canvas sheet one day and make a very impressive color chart using the primary, secondary and intermediate colors. I am painting a seascape presently after making these charts and I can already see changes in my blending of colors from my palette to the canvas. In the image you see I took this by taping the canvas to my glass patio door, the reflection behind it is my view out to the hills.