Painted en plein air at the nostalgic Crystal Cove Cottages during my five day stay in one of the rooms on the bluff overlooking this incredible scenery. At around 3pm, the sun casts shadows on the south side of the abandoned cottages leaving the sunlight roofs and fronts of the cottages bathed in light and color. Summer beach folk camp all day in this paradise along the shoreline. Crystal blue waters and sandy beach form a long shoreline towards Newport Beach coast. Scalloped baby blue water washes along the sand`s edge. A fine marine fog filters it`s way up the bluff in the distance. The sound of waves crashing every few seconds is a lullaby. There is no place like this on earth, that is why I come here to paint and capture this essence of an era gone by frozen in time. These cottages will be rebuilt in years to come when the funds are raised though.
I want to show my chronological process in painting this work of art.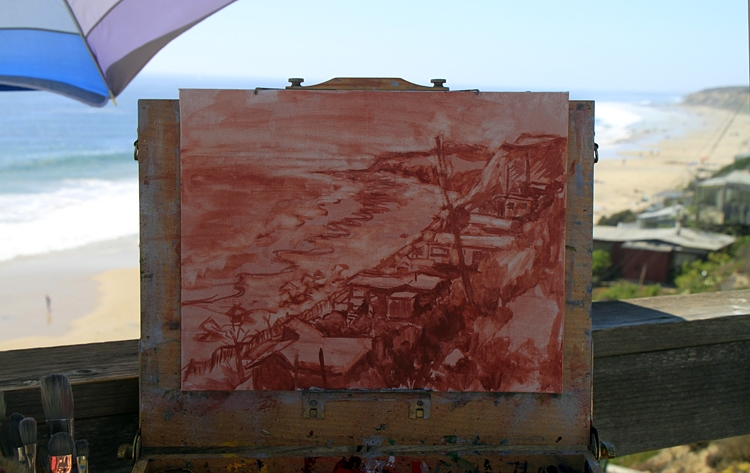 Day one: Above is the initial oil wash sketch of the scenery since it is a difficult, detailed one. I have been using a vintage tube of Light English Red for my sketch, I dilute it with mineral spirits and linseed oil to a watery solution and apply with a size 6 round soft brush. It is like an ink sketch with the shadows building the structures. I use small squares of Viva towels to blot out the light areas in the composition. I also use the small cones I make from the Viva towels to sculpt edges, thus building a representational image.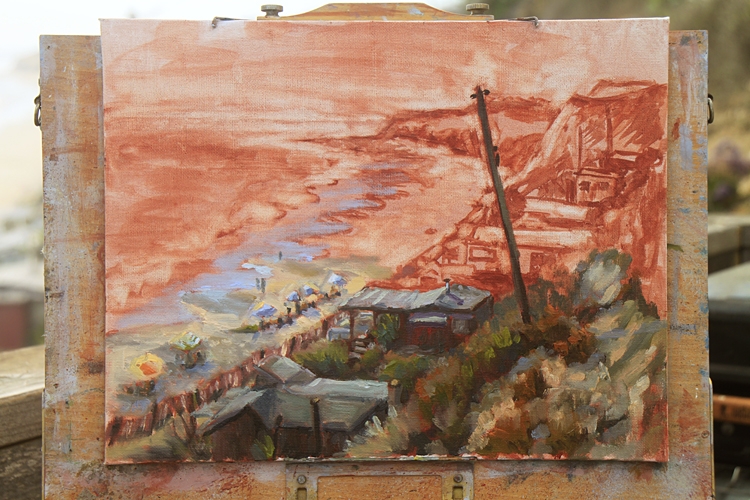 Day two: I had some video I took of myself painting this in the beginning, but I still need to figure out how to speed it up before I upload it. Anyway, here is how I begin, with the foreground area, I applied dark shadows to make a strong foundation which to paint upon. I placed the umbrellas and beach people early on to give it a focal point and then filled in the first two cottages and the back bluff plant growth. I learned a great deal from reading
Kevin Macpherson`s
books, "Fill Your Oil Paintings with Light and Color" and "Landscape Painting Inside and Out". I have been practicing his preaching for three years now. But I have been painting for ten years in oils. My growth and understanding of art has accelerated greatly since I began trying this new approach. After more than a hundred paintings, I am quite comfortable with this style now. I recommend buying his books and or videos from his
website
.
There is an iconic red-brown picket fence in front of these cottages and they keep out the curious folk from going into the properties. It is very dangerous to go into these places, they are in severe decay, rotted wood steps galore. So, I always place the picket fence as an interesting lead-in line into the painting. The main telephone pole is a strong line to push a viewer`s eyes towards the main point of focus, that being the group of beach people in front of the red-brown cottage.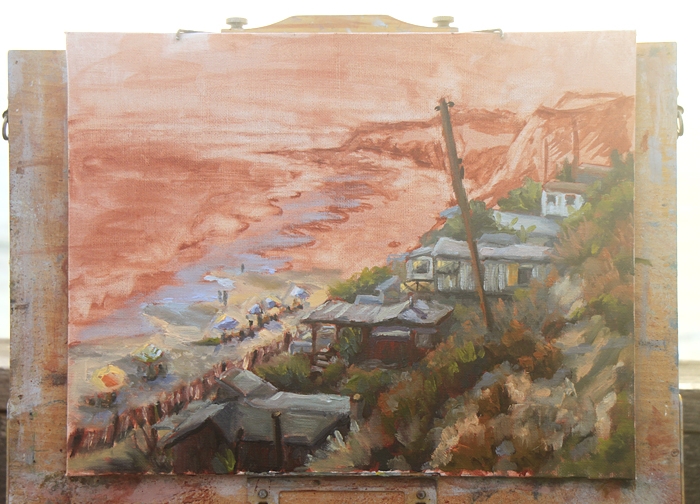 Day three: This painting took several days of painting during 3-6pm, a three hour stretch. On this day, a storm blew in southern California, more inland, but the clouds drifted over for awhile. I was blessed with sunshine the rest of the afternoon. I think I did an American Indian chant to get the sun back out. I wanted to fill in the rest of the cottages here and start creating an atmosphere that showed a gradation towards blue-grays as I got further up the coast. As a second focal point, the yellow-gray cottage is a strong shape and color with the sunlight hitting the porch. I placed some taupes and gray tone burnt oranges in the later cottages for a warm touch, like old wood and shingle colors. Too much cool colors would not portray this in a true sense. I felt that way about the shadows also, not to make them all violet or blue, I wanted a neutral blend of grays for believable shadows . In blending my oils on my palette next to each other, I was able to build a relationship to each color addition and make them lighter or darker in value or intensity as I built the cottages and greenery out into the distance. I do not blend on the canvas, it can get too muddy or blended looking. I want little shapes of color that are brushed up against each other in many various ways, some hard edges, some soft edges, some blended into a haze. Variety makes a spicy painting.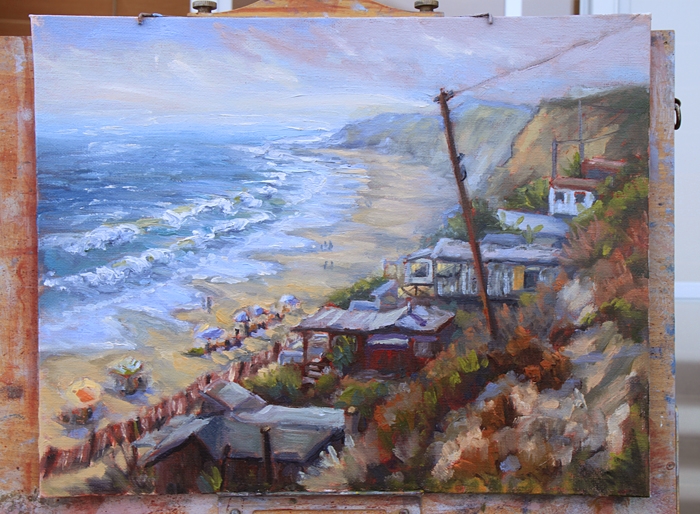 Day Four: Here you see I placed in the cerulean blue ocean waters and some secret blends of other blues to create a living looking sea. This was my last day, I took four days from start to finish on this piece of art. It was part historical recording, part whimsical depiction, part art for the most of it. One day alone was spent on sketching this in pencil, photographing it, analyzing the scene and drawing in the red-brown oil wash. Plus, I had family and guests showing up everyday to enjoy this glorious, atmospheric, ocean paradise. I even had artist friends come by to paint their little jewels for several afternoons. There is a lot of good memories painted into this piece of art. The last night was hectic, we had a party. Since it was time to leave the next day, I felt the telephone lines needed to be put in at my studio. No one would like to see an artist buzzed on wine putting in telephone lines, they would be all over the place.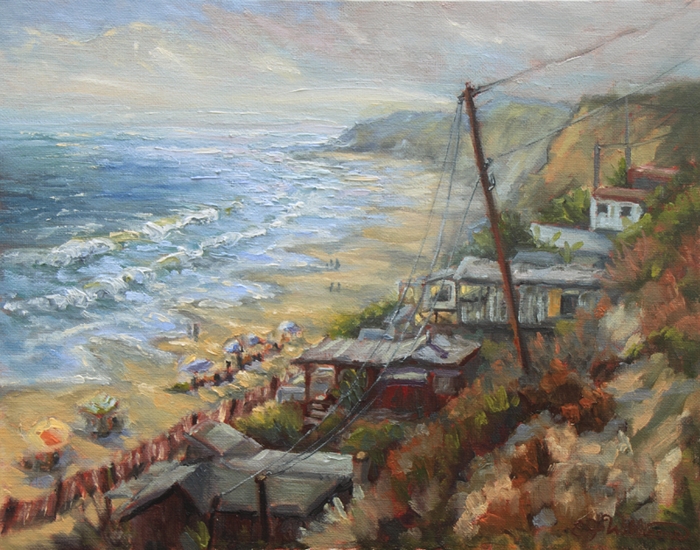 When I unpacked from my trip at home and went to put the telephone lines in neatly but not overpowering, I noticed the ocean was not quite right. I realized that I needed to do something for the painting`s sake, not for the way it looked on location. When painting on a clear day, there is often a hard blue line at the horizon. No matter what, it just does not lead the viewer`s eyes out towards infinity, so I blurred the edges, added several blends of a lighter blue, gray, and alizaron to match the sky. It looks dissolved now into the sky. There was dabs and dashes of a pale yellow and a lightened raw sienna blend to simulate the light bouncing off the waters from the sunlight going down. It was actually a blinding sunlight on me in the late afternoon, my umbrella had to be tied down in three places with afternoon trade winds also. I managed to get very sunburnt lips. That hurts a few days later. It was all worth it, I created a painting of a special place and even made corrections to allow the painting to live on it`s own as a work of art that is believable but has a mood, an essence of the bucolic Crystal Cove beach cottages. This piece is
sold
already. I am painting a larger piece from this in my studio right now. I never paint two works of art the same way. I will most likely paint a very large studio work after this, probably a five foot wide piece. This is a series of works of Crystal Cove. I have been painting it since 2003. There will be many more trips made to this captivating beach where the cottages are frozen in time. I get into a time warp each opportunity I get to spend a night in one of the cottages. No television, no phone, no news is good news. Watching seagulls, waves and contented people walking the beach. I`ll take that everyday if I can.