« Sagebrush Sandstone and Oaks | Main | 6th Annual "Less Is More" Art Exhibition & Sale »
This is a plein air piece that I completed at Limestone Canyon in the Irvine Ranch Wilderness along the trail. I spotted this brightly lit yellow mustard hill beyond a thick grove of oak trees. The dark trunk of the tree with the dappled light underneath and the fence posts echoed a time back when cattle roamed these hills and meadows. Now the grasses grow tall with wild oats and rye while the yellow mustard is taking over the hills in the spring. The yellow mustard is considered an invasive plant in the Irvine Ranch Conservancy, so I am not giving it too much star treatment. Except as an artist I could not help liking the fresh yellow mixed with the green oats and oaks.
Below is a glimpse of where I painted with the scenery beyond my plein air painting. I get so wrapped up in the sights, scents and sounds of this place. The country air went right into this painting. In this piece I made a commitment to painting a 'less is more' work. One where you make each brus stroke count towards building a work of art that has all the elements to make a harmonic, fresh, balanced picture that looks spontaneous, believable and is full of feeling or passion even. That comes from the hands of the artist in a few hours and it is a feat to do.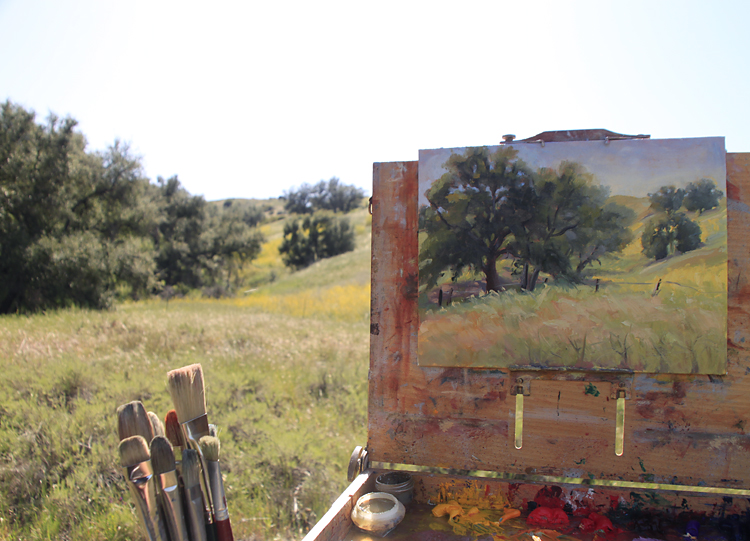 As I paint, I get many people hiking by and they stop to chat and see the painting, it makes for a wonderful day. I enjoy meeting people along the trail. Many of them get my postcard with my website and info on it. This is how I meet new art fans too.
Here is a larger image of the finished piece:
A hiker walked by and he asked to take a picture of me, so I asked him to take one of me with my camera in return. Here is the image he took.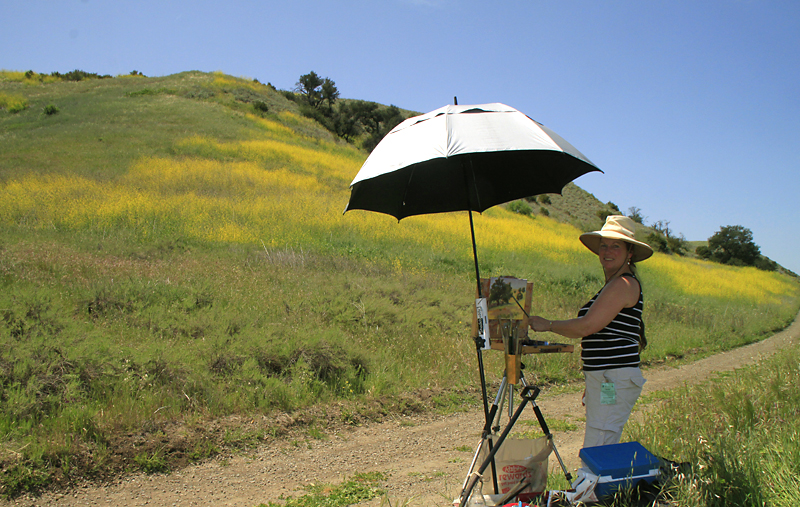 I look forward to painting out here in Limestone Canyon again!
The price reflects a framed work, thank-you.
---
---
Comments