Here is a piece that began on location (plein air) in Laguna Beach during a fog covered day. Actually it was the last day of fog after experiencing these heavy marine layers for about 10 days on the southern California coast. I was feeling the strain of not being able to paint any sunny scenes, so I decided I needed to embrace the fog and paint it. This was after a day of driving far enough inland to the wilderness and trying to paint in a secluded canyon. Only I got bit by a swarm of horse flies, that didn`t work for painting.
I have painted this scene of the Laguna Hotel several times during very sunny days, it was good for me to paint a different interpretation. What I learned is that the value scale is narrow on lower light days, also most of the colors you see are neutralized by lack of sunrays. The only pure colors were the blue and yellow umbrellas near the hotel and main beach kid's area. To authentically portray the damp and cold atmosphere, I needed to keep my color notes in the mid range to lighter values. To give this painting some added interest, I did apply some pastel colors to the fog and the shoreline wash. The temperature was pretty chilly, although the weekenders visiting from out of town still wanted to walk along the shore. I felt a romanticism in the air as I observed couples and families taking strolls. The dimmed light and heavy fog hovering over the Laguna canyon in the distance really made it feel like fall and doing all the things to stay warm. I smelled firewood burning in the air, I wanted a hot chocolate all of the sudden. I stayed long enough to block in the correct colors and shapes on the linen panel and packed up when it became too dark. You can see in the images below how quickly the day turned to night when the city lights appeared. I later worked on the piece in my studio to give it a new life, a few figures on the beach and later added an impasto affect with thick paint over the earlier thin. I began to make this painting evolve into my artistic and emotional feelings of fog, fall, people and Laguna, all embraced in the moment.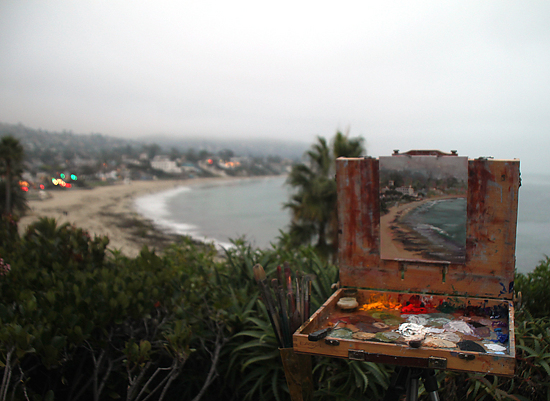 The above image is how it looked when I quit.
Within moments, the above image shows the Laguna Beach city lights appearing all over. It was magical. The image below is the large size of the final piece. There is so much thick paint in the foreground waters it will take a few weeks to dry.
It is SOLD.