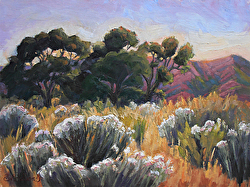 I'm ever so grateful for the Irvine Ranch Conservancy volunteers allowing artists like myself to do plein air painting in their protected wilderness. For being a member of Southern California Plein Air Painters Association and now Vice President, I requested a date to have a paint-out in a canyon. It is normally closed off to the public. This is Baker Canyon off Santiago Canyon Road, it is a delicate wildlands habitat protected from urban development to allow nature to grow and wildlife to prosper. So on a perfect Sunday afternoon with mild winds and clear skies about 20 artists were painting to their heart's content for 4 hours here. I chose to hike up a little bit to this overview of Red Rock Cliffs that looked red-violet to mauve in the later afternoon shadows. The backlighting of the oaks and buckwheat, wild oats and other chaparral intrigued my eyes. I kept walking back and forth to line up a perfect composition where the wild oats and rye grass lead a path to the red rock cliffs and gnarly old oak tilted towards the canyon. Afternoon light is so colorful pouring across the wildlands and it creates an atmosphere begging to be captured. The buckwheat is flowering in the spring and in summer turns deep red brown and burnt orange. There were literally thousands of the buckwheat flowers bobbing in the gentle afternoon breeze. I had to edit that and group several bushes or it would be overkill in this art piece. Here is an image of the day when I was done on the mountain before we all had to depart this wonderful natureland.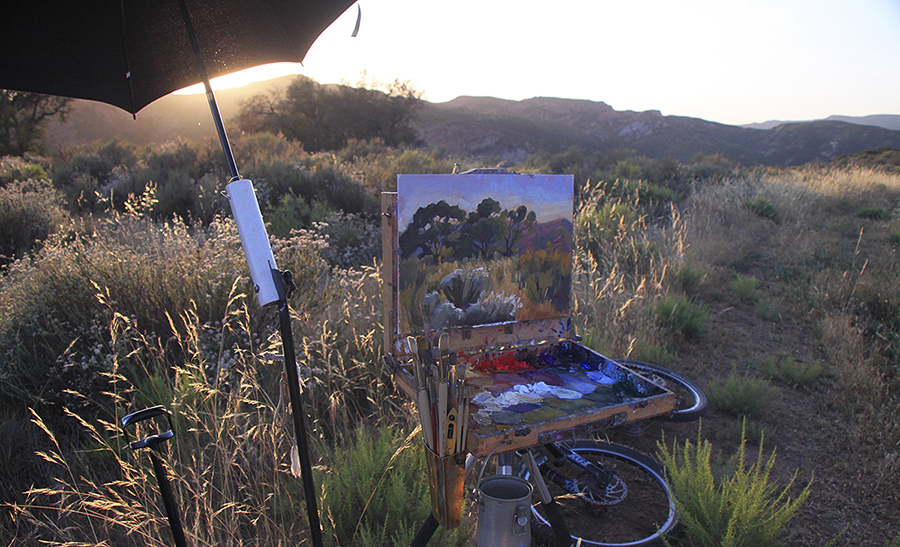 I later brought it home to refine in my studio, keeping as much of my original brushstrokes and shapes in there that I could. Which I am proud to say is a lot. It is an art in itself to make only essential corrections and enhancements central to making a plein air piece sing while keeping it's spontaneous beginnings. When I am pressured for time out in the field of nature, my brushstrokes are loaded with thick oil paint each time and the strokes are very gestural. I know what I need to do with color values to fill the canvas with divisions of shapes that compose the whole piece into a three dimensional perception. And I do it fast before the light changes drastically. One has no time to fiddle around. In the end of the afternoon, the golden light was weaving it's color into the wilderness and I had to add it's affect. It is a natural high to be able to paint out there. We are hoping to schedule more paint-outs in the future.
The price is for a framed piece in a plen air frame.
Comment on or Share this Article →
---
---
---
---
---
---
---
---
---
---