I painted this special piece from life on a very warm October Saturday (96) degrees) in Heritage Hill Park, Lake Forest, California. It is a commission piece for a fellow Irvine Ranch naturalist that I have known for years. Kelley has seen me paint in the oak lined hills of the Irvine Ranch Conservancy for almost 10 years. When she was having a wedding planned here, she wanted a commemorative painting of that special day. I was glad to oblige to her request. She planned a beautiful wedding that I was honored to paint in real life. This is an 1885 schoolhouse that means a lot to the couple, they had teachers in their families. It was important for them to be married on the schoolhouse steps and the character of the building lent itself so perfectly. The white board with blue-green trim was so cheery. I enjoyed the natural oak covered setting and the filtered light streaming through more trees lining the property. The guests and wedding party were just the greatest, good vibes everywhere.
Here is set of images that I took during the painting process. I had to show up and began an hour before the ceremony to sketch the scene in and block in the background.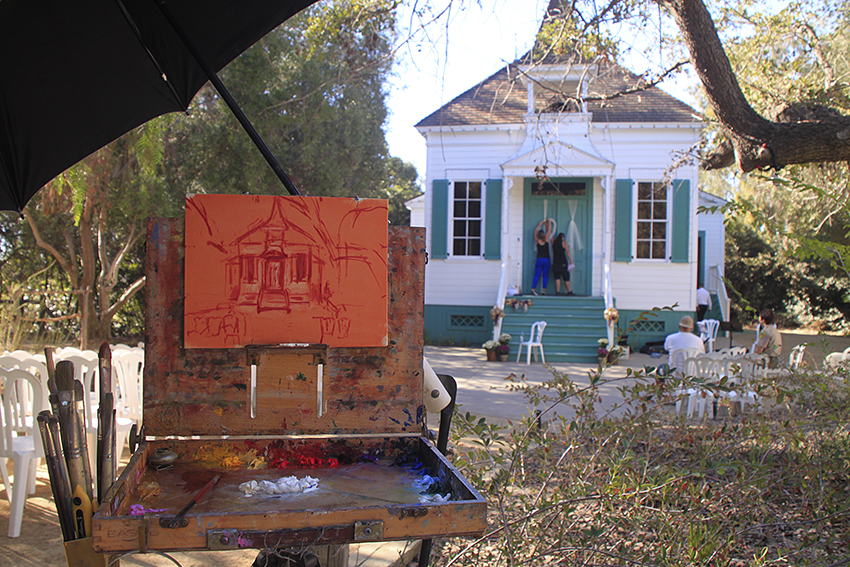 Once I made a light oil sketch to position the main subject matter I could tell that the horizontal was the correct format.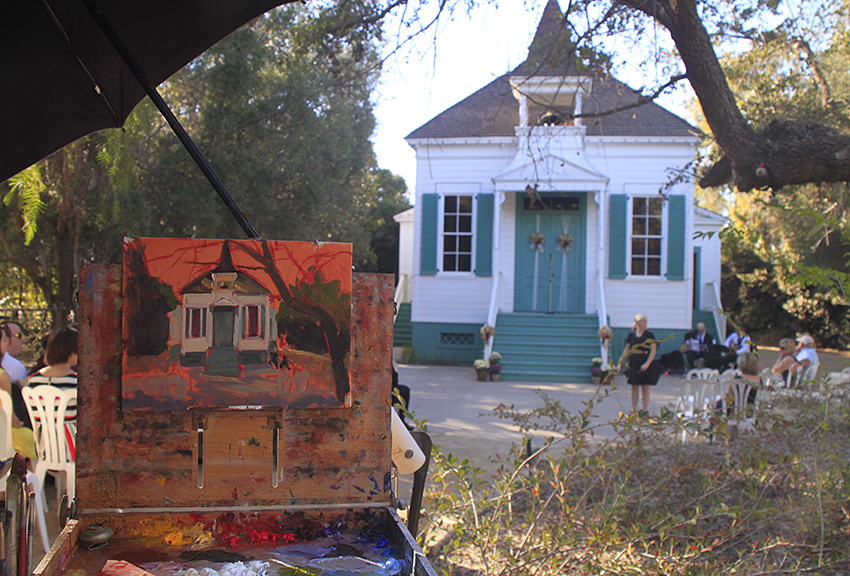 I had only one hour to build my background and when the ceremony began I had only a half hour to paint whatever grabbed my attention. That was tough and a little crazy. I had to go at full speed. I sure had fun doing it.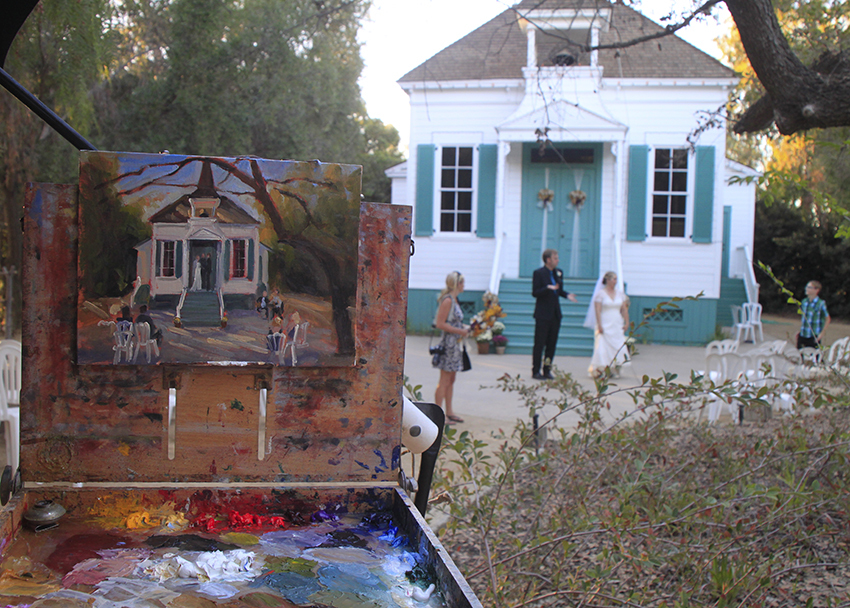 Trying to complete a 9x12 of a whole wedding ceremony was more than I could handle, so I took this home and added the rest from my images I took with my Canon dSLR. Besides I was asked to join the party for cocktails. I can`t say no to that. Fun was had by all.
When I do look at the completed artwork, I keep going back to that day, that beautiful day, the live music, the love in the air between the couple, the guests, the historic schoolhouse and the sunlight ever so gently streaming through the trees. It`s all rolled into this painting by my hands, mind and mostly my heart and soul. I`d do it again.