I am currently using this piece to paint a larger 48x36 studio painting with horses.
Here is what the day looked like when I arrived late morning, the sky was mostly cloudy but it was beautiful. I had to do this little workstudy to gather more information because a few months ago, I spotted a herd of horses running across this field and later I decided to paint a 48x36 of the scene from images I took. I wanted to come back to paint some of the color notes I observed from nature, bring it home and relay those colors to the large studio work, plus add some feeling of the place into the big piece from my impression. I spent only 45 minutes painting this little jewel to the sound of a brook flowing right in front of me. It was very peaceful and worth every second I spent recording what I felt and saw. I even recorded a 16 minute video of myself in this scene painting, so I will upload that to my Youtube Channel and place the link here tomorrow. The sound of the alpine water brook running is very audible in the video.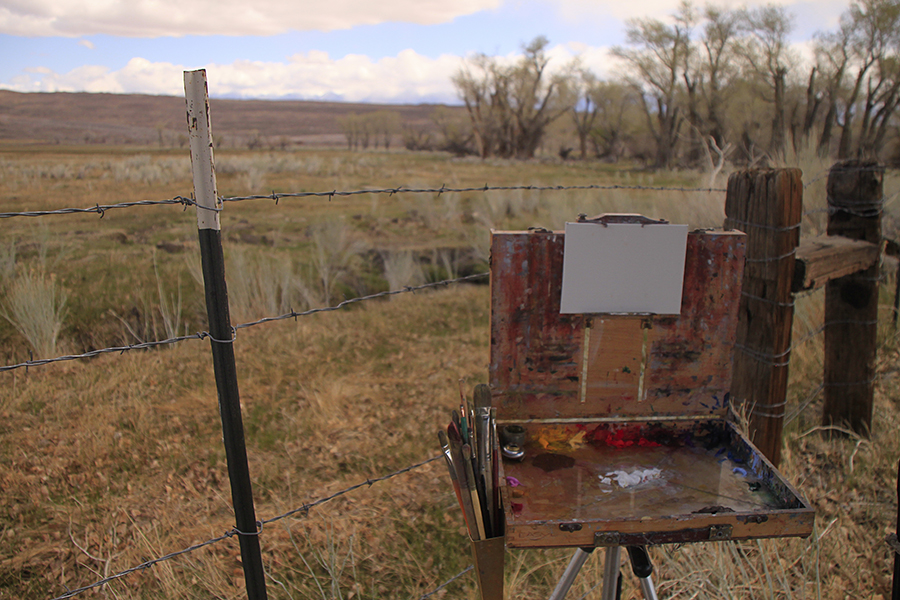 Here is the piece when I was done and the sun was coming out, that was good because it was in the low 40`s under the clouds. The mountains all around me had fresh snow on them. Everywhere I turned was a new painting I could do, 360 degrees!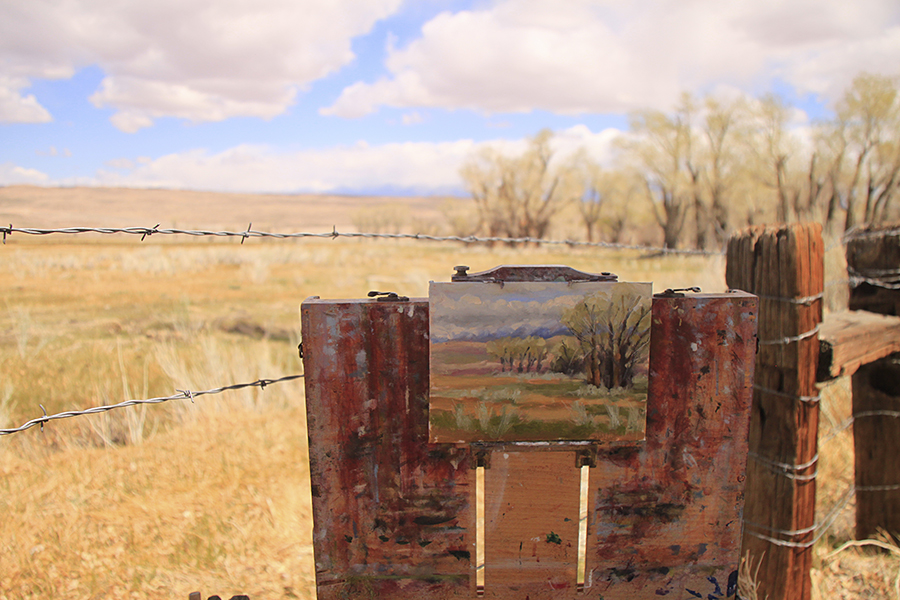 I had to discipline myself though and paint this so I knew I was grabbing down believable colors that will be ever so important to my large pastural painting with these Cottonwood and Elm trees. As you can see I was being pretty accurate with the same colors on location as in the painting. A woman and her husband rode by on bikes and she really felt attracted to this piece, I could not let her buy it yet until I finish my big painting. The last thing I expected down a long country road was a new collector, I took her information. It made me feel really good.
One more image below is of the back end of the Prius we drove up to the Sierras in. My husband was fishing in a gorge down the road. I always bring my Chihuahua, Dolce and she is well trained to sit while I paint. She chose the back end to hang out on my coat to keep warm.
I could live here part time, but for now I keep making trips back to paint more and more.