I just took a painting trip on April 24th to Baker Canyon, part of the Irvine Ranch Wilderness in Orange County, California. It was a special outing for the Southern Calif Plein Air Painter`s Association, also in co-ordination with OCParks. We hiked up a long trail that goes above the Red Rock Cliffs towards a much higher climb. I decided to stay closer to bottom near the Red Rock Cliffs view to spare myself the struggle with all my art gear. I was hoping they provided us with a 4WD to bring us back in the canyon, but driver`s were not available. The weather was threatening rain and I was immediately attracted to this composition of the curve in the dusty clay trail, the buttery wild oats, the pastel green coastal sage, dark green oaks and other brush in front of those Red Rock Cliffs. Looking at the time, I noticed I had only 2 hours to paint left. After sketching several possibilities of arrangement of the subject matter, I went right into painting. Usually I have several pre-blended puddles of oil colors in different values on my palette, but this time I didn`t. I kept saying to myself, right now, what is most important to do, this helped me move fast and use discernment in my choice of action. I thought of John Carlson`s book on Landscape Composition and the four planes of light values. I thought of Kevin MacPherson`s advice on dividing the composition into larger masses, no more than 6. I squinted to see those masses and with a diluted brush full of red-brown I drew in sketchy shapes and made sure the whole linen panel was washed a warm red-orange brown. I decided not to draw exactly as I saw the scene, just loose indications of the mass areas like ground, shrubs-trees, hills and sky. They constitute the four planes. Then I squinted again and saw the shadow design in the low lying shrubs like coastal sage brush, it tied the taller dark shrubs to the oak trees. I made a blue-violet color on my palette, tinted it with Raw Sienna to neutralize it and dipped my brush in mineral spirits to wash that color in first. I felt one of those ooh & ahh moments as I saw that color on my linen panel mix with the warm red-orange-brown wash that was already there. On a cool day there is supposed to be warm shadows, I loved the happy accident. When I am painting nature, I have a reverence for her natural colors, it is what I place importance upon as I create a painting. But for the art sake, I must enhance the degree of color and light or shade to make a beautiful painting without destroying the essence of the scene. When I build a painting, the first color I put down has to relate in harmony to the next color and the whole painting will sing in harmony in the end. I study the color wheel for a few minutes at the begining of each painting to find opposites like the blue-violet and yellow orange that is present in the underbrush and ground cover. Then I noticed the blue-greens in the sage brush and oak trees, opposite that is red-orange which is in the Red Rock Cliffs as a faded, lighter value. Color combinations excite the eyes and emotions and I felt real good as I recorded what nature presented me. Exception here, I knew I was creating a work of art and I had to move things, edit things and simplify things for the design of the piece. That is the joy of being an artist, we get to use our inner/outer visual perception combined with our education and techinques of painting from learning and experience. Scroll below to see the detail of this work to see my brush strokes, you can tell I was elated to be present in Nature`s beauty.
Here are several images of that day I painted: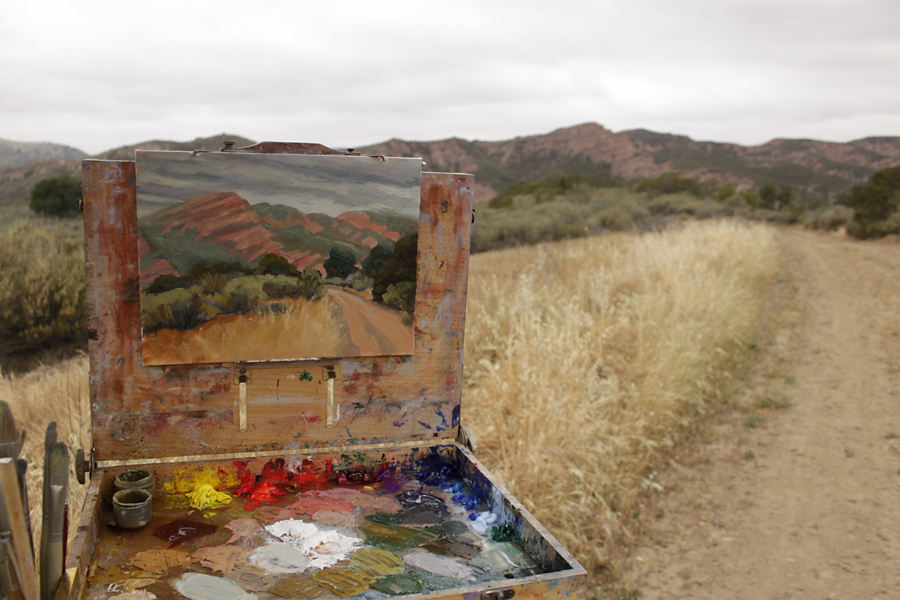 I refined the artwork in my studio last night to further create a noble piece.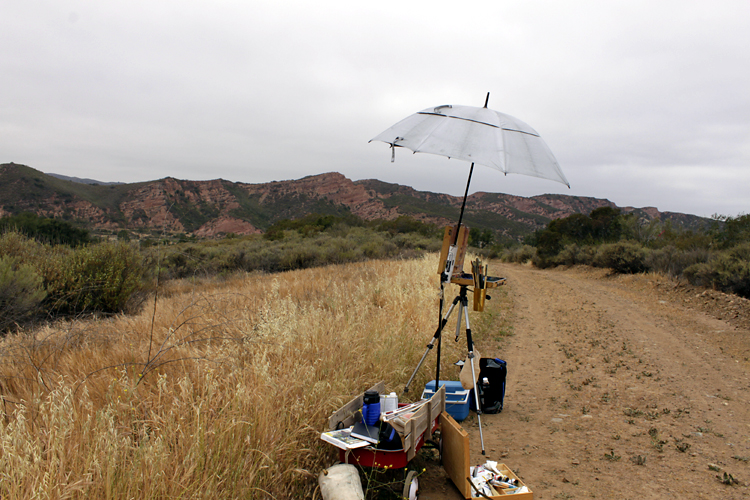 Showing my production set-up, I haul everything in this old Radio Flyer wagon. I must have the comforts of a little coffee,cold water, fruit and plenty of art tools including extra paints, camera,etc...
Here is the detail image of the focal point in the painting, the trail going by the oak tree down the hill.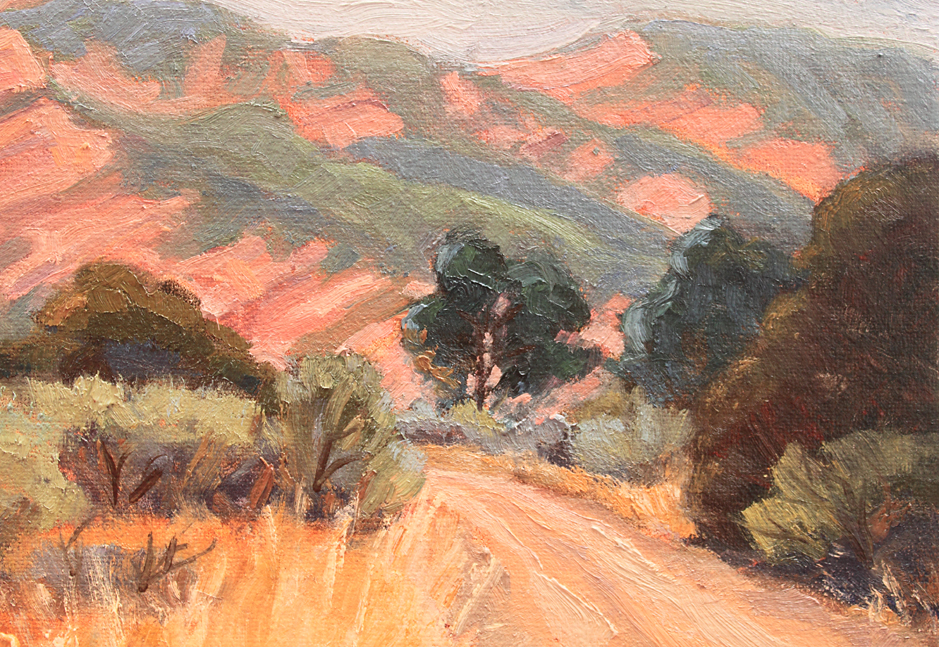 Here is the whole painting below: