This oil painting is a studio piece that was created from a recent workstudy. It was eleven days ago that I got up very early to see the morning light at Crystal Cove Beach. Only, it wasn`t very light at all, there was a prediction for a mild storm front moving in. What I saw when I arrived on the coastline, the sky didn`t look mild, instead it was mysteriously dramatic to say the least. The sun tried it`s hardest to peep through the breaking clouds as it rose above the Crystal Cove Cliffs at Reef Point as I was standing on a long reef just south of Crystal Cove Cottages. I saw it for a moment and there was a splash of white and yellow orange behind stratus clouds. The nimbus (rain) clouds were the dark blue-violet and moving east in a rather solid mass; bits of the clouds broke off near the sun and seemed to spray in a feather fashion upwards to the eastern sky. But there was ambient light sifting through, a cold light. It made all the shadows colors on the shore deeply warm. I took this image as I was setting up my easel on the reef rocks.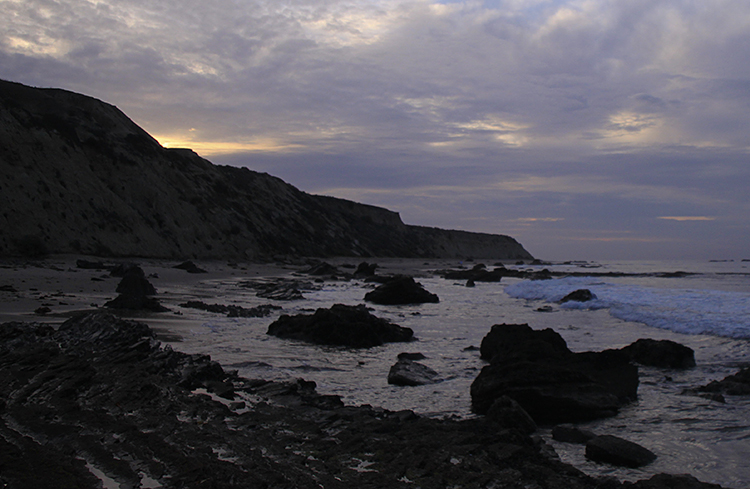 The problem with scenes like this and taking an image with a good camera even is that the sky is usually overexposed and the land is usually underexposed. Hence, this is the reason why we crazy plein air artists insist on painting from life, to capture the truth.
The tide was way out and low, so I knew I had a few hours to paint there. When the tide comes in, the reef rocks become covered in the surge and I have to stand on the sand closer to the bluffs. I liked this feeling of being way out in off-shore position, like a sea captain arriving in his ship. The temperature was around 45 degrees, not bad except the strong on-shore winds were icy and went right through me. I was wearing a cotton turtleneck, 2 cashmere turtleneck sweaters and a heavy cotton hooded sweatshirt. It think the chill went into the painting as what the artist feels, thinks and experiences goes into a work of art through expression. I was alone, since it was early morning you only see joggers along the damp sand. It gave me such peace and quiet to have this place alone to my soul and the spirit of the sea; even if the serenity was only for a while. It was long enough to feel assailed by the dramatic beauty in the sky and how it affected the rest of the seascape. I was one with the sea. Within an hour I was visited by a tiny handful of curious tidepool walkers and that was okay.
I became absorbed into the scene, the rocks were all types of neutrals; brown, taupe, gray, green and red. The low light on the sea created its own array of unique colors. In my head I knew I better block in this first imprint of what I observed in the sky, cliffs and sea quickly. Those clouds would never look like that again for the rest of the day I thought. It was low key and very moody, just fabulous to my heart. I was color-matching what I observed, this was my discovery time. I did not want to paint what I thought the rocks should be like, but what I saw in the values and colors of that first impression. I paid attention to a harmonic composition design also. The workstudy was completed in the two hour period and I packed it up to head out. The sky had clearly lightened up by the time I was done, what a difference in the change I noticed. Later that day the clouds opened up to shed it`s rain on me when I painted another small workstudy titled Incoming Storm. The earlier imprint of the morning had not erased from my inner vision, from my memory banks and it was brushed into the canvas. I took the workstudy home, it sold immediately to a great patron of my art and I began to start this studio piece from the workstudy.
Using the workstudy and digital images as references, I prepared color/tone blends on a big glass palette that matched the workstudy. That was difficult, getting just the right color that you used on location. When I paint plein air, I am grabbing dabs of Ultramarine Blue, Chromatic Black, Viridian Green, Alizarin Crimson, Raw Sienna, Cobalt Violet, Cad Red Medium and Light, Chinese Orange, Pale Yellow, Cad Yellow Medium and Yellow Ochre in a multitude of combinations and portions to create colors. Oh, let`s not forget White also. It`s nearly impossible to re-create an exact color. So, I go with the best match and discover new ones along the way. Once I prepared the colors of rocks and sand I began the placement of the shoreline rocks. Then I built the bluffs and sandy shoreline in relation to the sea and sky which was painted last. I painted it for several days in the 'fat over lean method.' Which the phrase needs to be turned around to lean oil first washed in and then fat application with gestural strokes. Also I used a larger brush like a size 10 flat hogs bristle brush that I love for painting layered skies. Everything changes when a second piece is developed in the studio; it is a metamorphosis in a way. It stuck with me how those low hanging clouds were so deep in color tones. Here are both pieces together, I was not quite done with the studio at this stage, the clouds, sea and shoreline needed more development.
I guess I dramatized them up a bit, but that is the emotional reaction I received and wanted to convey in the studio work. I wanted to paint a deep foreboding sky imposing upon a rising sun over a just awakening sea. The clouds, sand, rocks and sea needed to become unified in its moment of time and have the atmosphere believable in its quality of light. I read something very interesting in a Charles Hawthorne book, "If one tilts their head sideways, they can see the color better." I tried it and it really works, so I have become a punk-rocker head tilter now. In the end, I did away with the workstudy and images to finish it from memory and the color impressions I received from my perception of the scene. In essence I abstracted certain areas to make it a better work of art, not a copy.
Here is the piece, "Dawn Before the Storm" 12x16.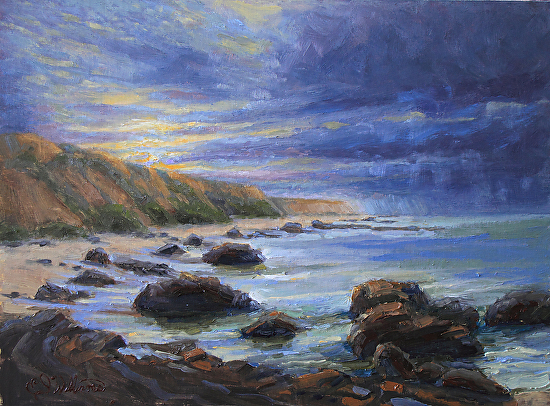 It does not photograph as exactly as it looks in real life either, it may appear darker than it really is. The blues are not as color saturated as they appear on my monitor. I may hang it on exhibition soon and allow it to be seen in person for awhile.
I am being asked by my family to keep this work, I am feeling the pressure not to sell. So, I may re-create an even larger piece from this and it will change also.